Triangle unveiled Limited Editions of Antal and Comete loudspeakers.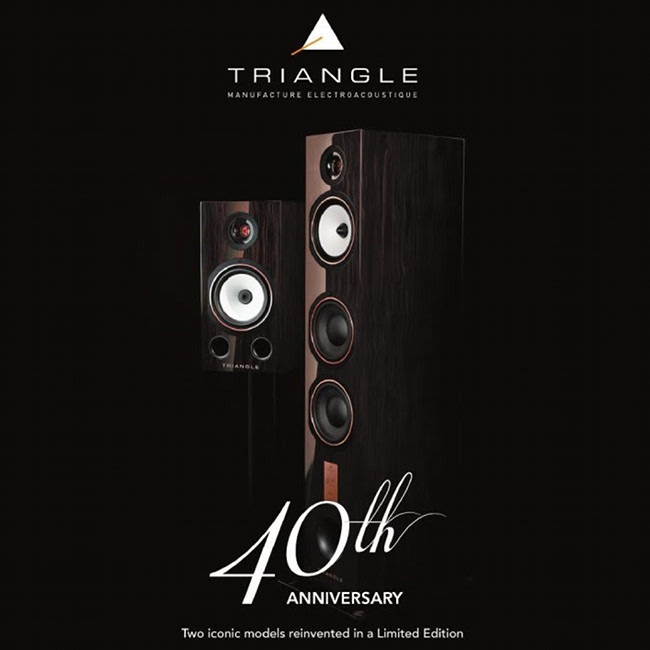 Source: Corporate website, Last Accessed: 2021/03/19
Entirely redesigned and improved, the mythical speakers Antal and Comete feature the latest acoustic innovations from Triangle's R&D department. Between legacy and perpetual quest for innovation, this 40th Anniversary Limited Edition embodies the philosophy of the well-known French company.
In 1980, Renaud De Vergnette, passionate about art and music, developed in his modest workshop an innovative loudspeaker, the 1180. Bold new achievements, filled with technological innovations, slowly enabled Triangle to really shine in the French high-fidelity sector. Forty years later, a limited "Anniversary" edition of two iconic models celebrates the history and know-how of Triangle.
In the quest for innovation, the R&D team of Triangle has developed new components. Each aspect of this 40th Anniversary Edition is the result of a careful optimization effort, the company says. For the tweeter, the unprecedented use of a composite dome in rose gold anodized magnesium, offers the tweeter high efficiency, controlled distortion, and excellent directivity.
The midrange driver features the well-established paper membrane cone but in the Anniversary Edition it also benefits from a new cone profile, improving the frequency response especially in low frequencies. The Antal incorporates a new generation of bass drivers with extremely rigid membrane, a unique composition of two types of wood pulp, coupled with flax combined with carbon fiber, limiting distortion despite its long throw.
The 40th Anniversary Edition uses high-end cabling inspired by the Signature Series. It combines two insulated copper conductors to offer a delivery adapted to the different frequencies of the signal spectrum. A PVC jacket covering the entire cable. The conductors are OFC. The filter design ensures a balanced listening experience, each component is carefully selected: air core coils, MET capacitors and ceramics resistors, featuring terminals in rose gold anodized brushed aluminum.
In search of cabinet neutrality, Triangle uses a very high density MDF (800kg/m3), used on their high-end Signature and Magellan cabinetry. The walls are between 20 to 23mm thick, once veneered and varnished. Both the Antal and the Comet 40ths, are fitted with numerous internal reinforcements in the form of perforated partitions.
A numbered certificate of authenticity ensures the uniqueness of the loudspeakers produced at the factory.
For more information: https://www.trianglehifi.com/
---