Wilson Audio announced the Alexx V.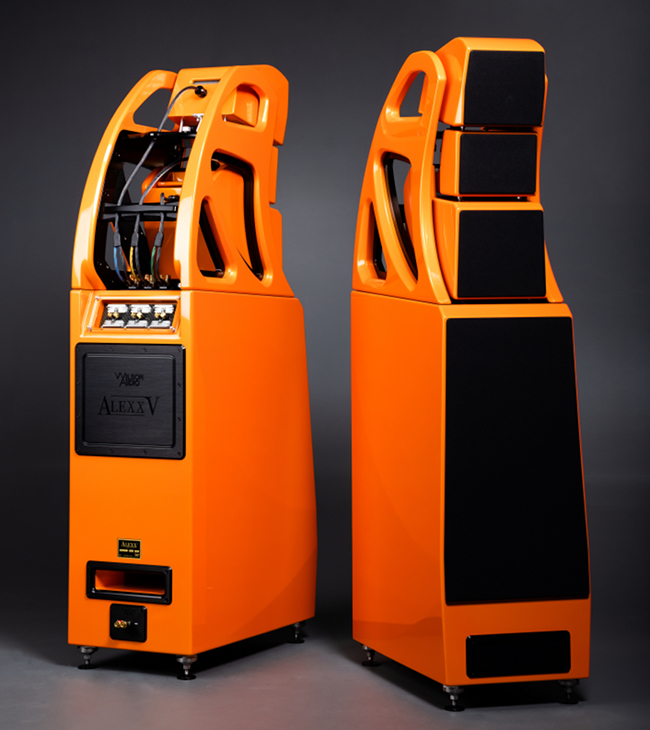 Source: Press Release, Last Accessed: 2021/03/29
The original Alexx loudspeaker, launched in 2016, quickly gained critical acclaim throughout the industry. When it came time for an upgrade, the decision was made that a fresh look was in order, so Wilson Audio's R&D team approached the Alexx V as it if were an all-new product. The result, according to the press release, is a ground-breaking loudspeaker designed and handcrafted especially for music lovers and audiophiles alike.
A variety of carefully chosen materials have been implemented in this design, including the latest version of X-Material, extremely monotonic and damped in its response, found throughout the woofer, gantry, and upper modules. Moreover, S-Material is tightly coupled to each midrange and provides a neutral and natural surface from which music can launch. First used in the Chronosonic XVX, V-Material, is strategically nested into interface locations for superior vibration control, acting like a vibration absorber and has been put in the structure between the woofer module and the gantry.
The open architecture gantry first launched with WAMM Master Chronosonic, followed by Chronosonic XVX, has now found a home with Alexx V. Not only does this benefit the overall appearance of the loudspeaker, but critically, it also enhances the overall rigidity of the entire upper module section and minimizes pressure trapped behind the enclosures, resulting in greater fidelity. Easier access to the upper modules makes for quicker adjustments, module setup and time-alignment fine tuning.
Continuing the Midrange – Tweeter – Midrange (MTM) design geometry of the original Alexx, the time-alignment accuracy of Alexx V is much closer to the XVX, giving this system the ability to recreate micro-detail one would expect from a much larger system. The different sized lower and upper midrange drivers allow for a more careful tuning of the frequency band, which, when combined with the latest manufacturing advances, gives a greater degree of accuracy and adjustability.
When it came to the tweeter, the Alexx V features an entirely new Convergent Synergy Carbon (CSC) driver, which builds upon a modified version of the previous Convergent Synergy motor while embracing a re-imagined, intricate, and innovative rear-wave chamber. This carbon fiber design is completely manufactured in-house using several 3D printers.
Wilson Audio originally developed the 10.5-inch and 12.5-inch woofers in conjunction with the WAMM Master Chronosonic. Carefully optimizing the Alexx V enclosure, the internal volume has dramatically increased (+16%) compared to the original Alexx. The net result is that Alexx V features almost the same internal woofer volume as the Chronosonic XVX, which in turn allows for much deeper low-frequency reproduction, faster transient settling, and an overall increase in bass resolution.
For more information: https://www.wilsonaudio.com/