Aavik announced the U 180/280/580 series.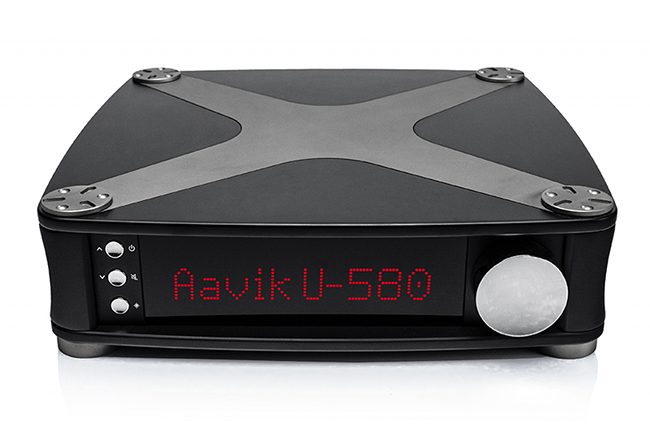 Source: Press Release, Last Accessed: 2021/10/30
Aavik has expanded its highly acclaimed series of separate audio components with the U-180, 280 and 580 which combine both an integrated amplifier and a DAC, into one device, a good solution for every audiophile who wants to minimize the space required but not to compromise on the quality.
A completely redesigned common main board replaces the two separate needed, providing the shortest possible signal path between amplifier and DAC. Based on this, Aavik's new U-series features a low noise floor and unprecedented dynamic speed, the company says.
The premium U-580 is Aavik's flagship model of this series, featuring a large cross inlay in the top plate, made of titanium and serving as a resonance control element while its inner chassis, which is made of solid copper, for better isolation. The series is also equipped with additional Ansuz noise reduction control.
Aavik uses the patented UMAC amplifier technology, developed to avoid the design flaws of traditional switching amplifiers. According to the press release, UMAC primarily targets two areas of modulated amplifier design. Firstly, the PWM generation is produced with sine wave modulation rather than the more common triangle modulation. The benefit is that sine waves create far less high frequency noise than triangles, no sharp corners, and thus require far less inductive filtering at the output. The lower inductance in the output gives the amplifiers a much better damping factor and thus a distinctly better speaker control. Secondly, the advanced dual mixed mode feedback allows damping factors that are characteristic of only the very best linear amplifiers.
The Aavik DAC section is designed around 5 digital inputs. Great care was devoted to the set-up of the PCB design. By employing time-aligned, ultra-short, 4-layer PCB traces, Aavik wants to preserve the natural and pristine sound quality of the wide and complex range of different signals. The DAC circuits are also fitted with ultra-low jitter on board clocks.
To best accommodate individual listening preferences, and "to fit hand in glove" into any existing audio system, Aavik has designed 4 individual settings. Since the selected signal source connected to the input can tinge the actual sound performance, upsampling can be switched on and off. There is also a choice between a slow (soft high-frequency roll-off) and a fast (steep high-frequency roll-off) filter.
For more information: https://aavik-acoustics.com/
---