Arcam's new HDMI 2.1 Home Theater models.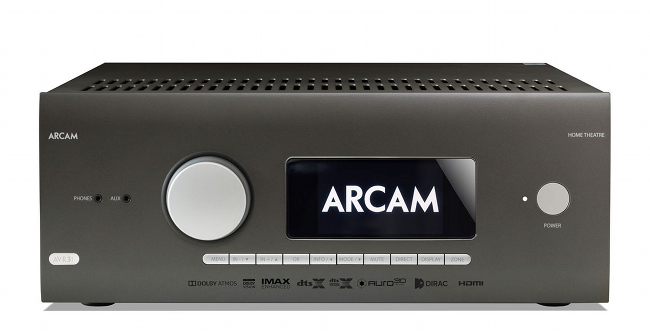 Source: Press Release, Last Accessed: 2022/02/28
The three new AVRs and the high-performance AV preamplifier support fully uncompressed 8K video on all HDMI inputs and outputs, feature latest immersive audio decoding, and provide best-in-class feature set for incredible home theater experience, the company says. The new models are the AVR11, AVR21, and AVR31 receivers, and the AV41 processor.
All models embrace HDMI 2.1 with HDCP2.3 for support of resolutions up to 8K at 60fps or 4K at 120fps, along with support for HDR10+ and Dolby Vision. Audio specifications include the latest Dolby Atmos, DTS:X, and Auro-3D immersive audio formats. The units also support Apple Airplay2, Google Chromecast, Bluetooth with aptX HD, Spotify Connect, TIDAL Connect, Roon, and MQA. When it comes to digital-to-analog conversion, the Arcam design team engineered each model with dual ESS9026PRO audiophile DACs, together with ESS reference voltage regulators. Each model is as capable with audio as it is with video.
Working in harmony with Dirac Live, the new Arcam models deliver a larger sweet spot, accurate staging, clarity, and voice intelligibility that are fully tuneable to the listener's preference the company states. Arcam also readies its models for Dirac Live Bass Control. Building on Dirac Live, Dirac Live Bass Management automatically maximizes low-frequency performance from all of a homeowner's loudspeakers.
The AVR11 and AVR21 each include seven channels of Class AB power amplification, rated at 7x85W (all channels driven) and 7x110W (all channels driven), respectively. The duo's AV decoding capabilities are extensive, with the AVR11 featuring native 12-channel decoding and the AVR21 adding a further four channels. The AVR21 also adds an HDMI output to the AVR11's pair, opening the option for a Zone 2 setup.
The Arcam design team equips the AVR31 receiver with seven channels of Class G amplification. This amplifier technology implements multiple power supplies and when a dynamic signal is received that goes beyond the capability of the first power supply, the secondary supply is gradually introduced, bringing it up to full-rated power output as required.
Last but not least, the AV41 is a high-performance AV processor that supports everything the AVRs support, while its rear panel provides XLR-balanced outputs for all 16 channels. The AV41 perfectly pairs with its power amplifier options: the PA720, PA240, and PA410.
For more information: https://www.arcam.co.uk/
---