Audio-Technica introduced their 60th Anniversary AT-LP2022 turntable.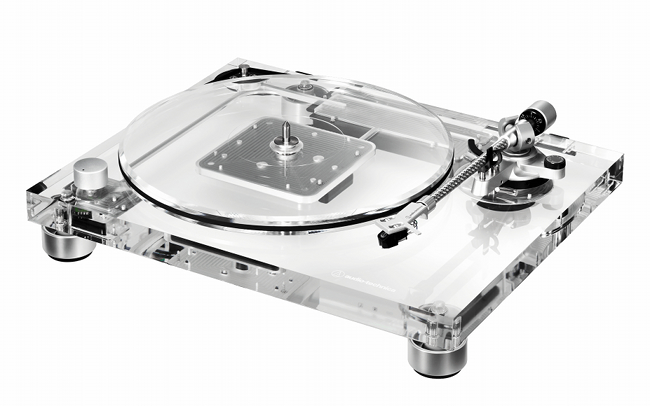 Source: Press Release, Last Accessed: 2022/11/01
Audio-Technica announced the introduction of their 60th Anniversary AT-LP2022 manual belt-drive turntable, a limited-edition record player that celebrates A-T's 60 years of excellence in high-performance analog audio. A limited number of AT-LP2022 turntables will be offered worldwide, each carrying a unique serial number.
The AT-2022 is built upon a 30 mm thick, high-density clear acrylic chassis that reduces unwanted resonances while imparting a distinctive look. The chassis is complemented by a transparent anti-resonant acrylic platter with a mounted black AT-VM95E cartridge featuring a clear AT-VMN95SH Shibata stylus.
The turntable's sensor-monitored belt-drive motor system provides playback of 33-1/3 and 45 RPM records. It features a carbon-fiber tonearm mounted on a metal base, with adjustable VTA, tracking force and anti-skating.
The AT-LP2022 offers users a unique opportunity to evaluate different diamond profiles, as it includes two separate styli with different geometry. An elliptical AT-VM95E is pre-mounted on the AT-HS4-SV headshell, and the AT-VMN95SH, a special-edition Shibata stylus with a clear housing, is also included. The VM95 cartridge platform also offers additional stylus shapes to accommodate listeners' vinyl playback preferences.
The AT-LP2022 features newly-designed isolation feet that are height-adjustable. The turntable's external power supply prevents any unwanted electronic noise from intruding upon the sonic purity of the signal, Audio-Technica says. The AT-LP2022 also comes with a removable dust cover, detachable RCA cable and 45 RPM adapter.
For more information: https://www.audio-technica.com
---