Bang & Olufsen introduced the Beosound Theatre.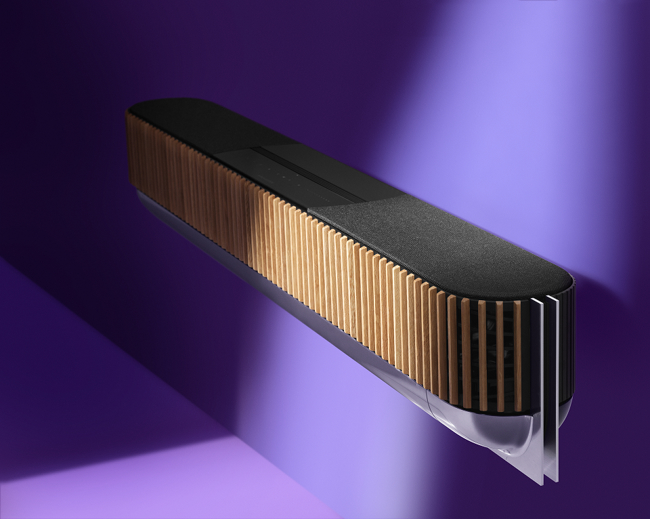 Source: Press Release, Last Accessed: 2022/08/31
Crafted with the ambition to be the world's most powerful and immersive soundbar, Danish audio brand Bang & Olufsen recently announced Beosound Theatre: a high-end soundbar that delivers the power of a multi-product home cinema, all in one singular product.
Beosound Theatre comes with 12 speaker drivers, including two custom-made long stroke 6.5-inch woofers and 800 watts of amplification power, providing up to 112dB sound pressure level. Speech clarity is managed by the custom-made center channel, where the tweeter is mounted directly in front of the midrange. Building on the Beam Width and Beam Direction Control developed for Bang & Olufsen's flagship Beolab 90 speakers, Beosound Theatre introduces a new three-dimensional sound directivity due to the patent pending combination of the direct, side- and up-firing speakers.
Based on the principles of modularity, customers can easily transform the soundbar into a complete wall-mounted or floor standing Bang & Olufsen TV experience. The aluminum "wings" are also extendable for customers whose TV screens grow as they upgrade.
The interface bracket is motorized and forms a seamless connection between the stand and the TV screen. Cleverly hiding any clutter to present the TV as one integrated design, the bracket includes a compartment to fit smart TV boxes and to excess cables from view. Beosound Theatre features seven built-in outputs and supports up to 16 external loudspeakers; it can be the heart of a full-blown Dolby Atmos 7.1.4 surround configuration.
Beosound Theatre comes with Bang & Olufsen's new setup technology called Roomsense. By placing the external microphone at the listening position, Beosound Theatre will work with the Bang & Olufsen App to measure the distance from the listener to the soundbar. But more than this, it will also assign a role for each speaker based on the different placements, carry out sound compensation for each speaker if it placed free standing, up against a wall or in a corner, as well as overall room compensation to avoid unwanted resonance.
The soundbar also comes with Bang & Olufsen's own proprietary software platform called "Mozart", which ensures that the soundbar can connect seamlessly with products as far back as 1986, creating a cross-generational home audio setup.
Beosound Theatre is available in a premium wood or fabric finish. Prices start from € 6.490 (RRP).
For more information: https://www.bang-olufsen.com/
---