Studio Sound comes home with the all-new 700 Series range.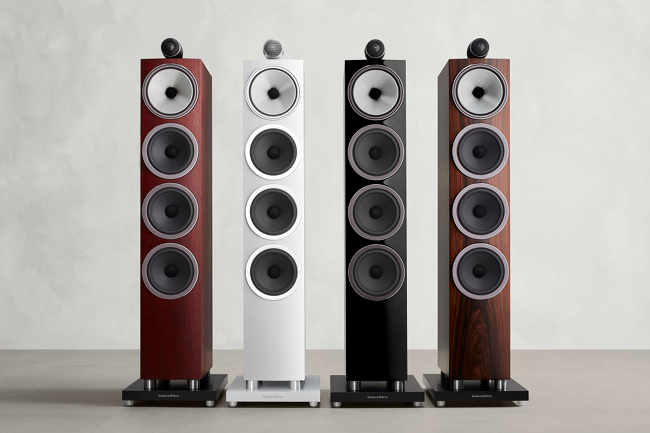 Source: Press Release, Last Accessed: 2022/09/21
The new 700 Series brings studio sound home, with elegant, high-performance models that will suit every decor and preference. Bowers & Wilkins' new eight-strong line-up of floorstanding, stand-mount and center-channel loudspeakers delivers the best-performing, most elegant range in the class, the company says.
In a first for the 700 Series, the new range introduces slimmer cabinets featuring a curved front baffle and drive units mounted in external "pods" that form a direct visual and technical link to the 800 Series Diamond range. This revised form dramatically reduces the impact of the loudspeaker baffle on sound quality by minimizing the cabinet diffraction effect. Bowers & Wilkins now offers its iconic Solid Body Tweeter-on-Top technology in four models in the new 700 Series, representing half the range in total. Now, the 702 S3 and 703 S3 floorstanding loudspeakers, the 705 S3 standmount model and the HTM71 S3 center channel loudspeaker include Tweeter-on-Top. This means, for the first time in a 700 Series range, owners have the option of building a complete 700-Series home theater system featuring Tweeter-on-Top throughout.
The tweeter retains the Bowers & Wilkins Carbon Dome, with its 47kHz first break-up performance, coupled to improved, vented voice coils with new, upgraded magnets. Even models that feature tweeters mounted in the baffle – 707 S3, 706 S3, 704 S3 and HTM72 S3 – benefit from all these changes.
In all three-way loudspeakers in the new range, Bowers & Wilkins has introduced its revolutionary Biomimetic Suspension – first revealed last year in the new 800 Series Diamond range. Replacing the conventional fabric spider found in the suspension of almost all loudspeakers built over recent decades, the Biomimetic Suspension dramatically reduces unwanted noise from the output of the spider as the midrange cone operates, B&W states.
Bass uses the latest generation of Bowers & Wilkins famous Aerofoil Profile bass cone technology, based around a composite sandwich of materials with a carefully formed variable profile aimed at delivering cleaner, lower distortion bass.
The new 700 Series range are already available.
For more information: https://www.bowerswilkins.com/
---