Pearl Pelegrina: Cabasse's 70th anniversary, connected active stereo loudspeaker system.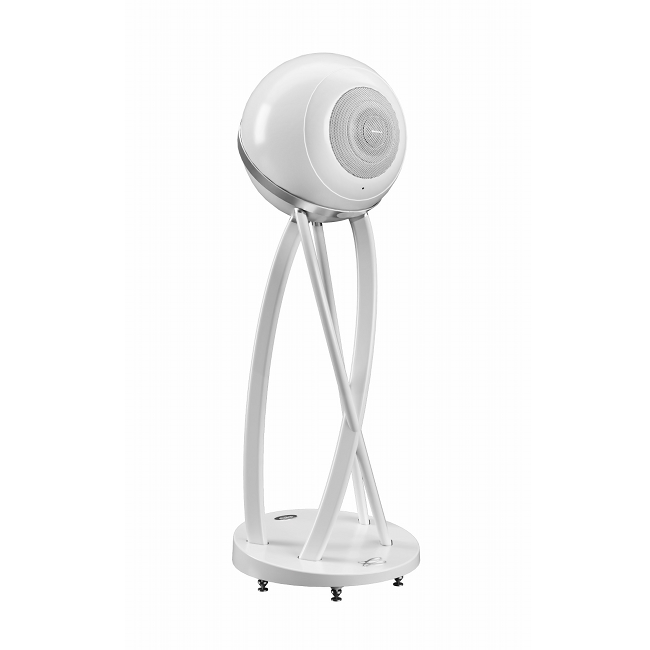 Source: Press Release, Last Accessed: 2021/11/29
Marking their 70th anniversary, Cabasse unveiled the Pearl Pelegrina, the latest addition to the French maker's stunning collection of powered/connected loudspeakers, a flagship system to the high-end connected audio market, in much the same way as their offering of the La Sphere to the active speaker market in 2006.
According to the press release, the Pearl Pelegrina fulfills that early aspiration and is the flagship of Cabasse's Pearl connected loudspeaker line – the market's broadest range of high-end connected speakers – blending the company's finest technologies to deliver an exceptional listening experience. A beautifully designed limited-edition speaker, the Pearl Pelegrina features exclusive materials and a luxurious finish to provide the ultimate immersive acoustic experience. Conceived, designed and custom-built by the brand's team in Brittany (north-western France), it stands almost 130cm tall, with its sphere and base measuring 48cm in diameter.
Brand fans may well recognize the Lissajous curve stand, the famous figure named after the physicist who "made sound visible", and the logo accompanying Cabasse since its inception. Like all speakers in the Pearl Collection, the Pelegrina features a custom cut polished mirror metal band that circles its sphere.
The Cabasse Pelegrina electronics are out of sight, having been ultra-miniaturized and concealed in the base. Each speaker pair bears numbered plates to identity this special limited edition. Cabasse will create 70 pairs of the Pelegrina, offering a lifetime warranty (on the speakers) for the first buyer.
Each Pelegrina package includes a Cabasse-branded protective cover, a Bluetooth remote, the Brand book, brushed aluminum numbered plaques on each of the 70 pairs (70-year limited edition), CRCS calibration (with integrated microphone), four brushed aluminum spikes and the StreamCONTROL application.
For more information: https://www.cabasse.com/
---