Chord Electronics announced the Ultima Pre 3 preamplifier.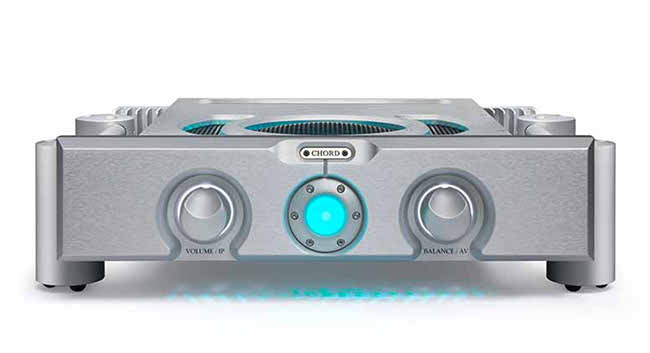 Source: Press Release, Last Accessed: 2022/05/04
The new preamp is an entirely fresh design both inside and out, and benefits from the latest Chord Electronics preamplifier technologies, along with a striking new fascia design, all masterminded by the company's founder-owner John Franks.
The new pre- offers five analogue inputs, two balanced and three unbalanced, plus a separate AV bypass input. All feature individual buffering and are selectively filtered against potential ingress from radio frequency interference, the company says. Selection switching is performed via sealed relays, controlled by microprocessors.
Externally, the Ultima Pre 3 benefits from a completely redesigned front panel. The new fascia offers a perfectly symmetrical design, centered on a circular power on/off sphere which uses the company's familiar polychromatic indicator lighting, giving a clear and simple indication of the amplifier's playing status. The power sphere is flanked by a newly designed combined volume and input selector, plus a combined balance and AV bypass control.
All casework is precision-machined from solid aircraft-grade aluminum, including the Integra legs. A black acrylic side-block alternative to the Integra legs is also available as a no-cost option. The upper panel features a pleasing vented design, which is enhanced with a dimmable LED light.
The Ultima Pre 3 includes both balanced and unbalanced outputs, a 12 V trigger plus a convenient 5 V/3 A USB Type-A output to power peripheral devices, including Chord Electronics' DACs such as the Qutest and Hugo 2. The new preamplifier is perfectly suited to a wide range of power amps, including the Ultima 5 and Ultima 6 stereo power amplifiers. It can also be used with the Ultima 2 and Ultima 3 monoblocks.
The hand-built Ultima Pre 3 is available now in either Jett black or Argent silver.
For more information: https://chordelectronics.co.uk/
---