Denon unveiled new high performance devices.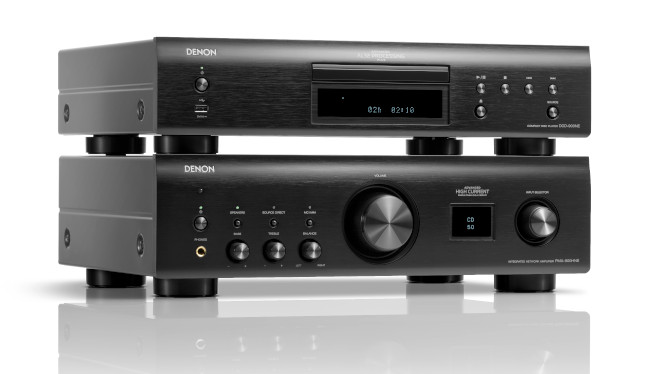 Source: Press Release, Last Accessed: 2022/05/19
The new Denon 900 series components, including the first Denon HEOS Built-in integrated amplifier in a standard size chassis with a matching CD player and the new Denon PMA-1700NE premium integrated amplifier were unveiled during the High End Show in Munich.
Denon's Advanced Ultra High-Current UHC MOSFET integrated amplifier PMA-1700NE delivers 140 watts per channel and offers connectivity for both analogue and digital sources, while vinyl record collectors will enjoy inputs for both moving magnet and moving coil phono cartridges. The new amp also provides support for high-resolution digital music up to 11.2-MHz DSD and 384-kHz/32-bit from a computer using the USB-B input mated to a precise master clock and high-performance DAC that effectively suppresses jitter for best performance during digital playback, the company says. Outputs include A/B speaker terminals as well as a subwoofer pre-out.
Another amplifier debuted at the High End Show was the PMA-900HNE, Denon's first HEOS Built-In integrated network amplifier. This amplifier is equipped with an advanced high-current 85 watt per channel power stage and oversized power supply and makes streaming easy, thanks to easy Wi-Fi network connectivity as well as the convenience of AirPlay 2, Bluetooth, and multi-room audio capability through the built-in HEOS. The PMA-900HNE is compatible with high-resolution digital audio ALAC, FLAC, and WAV lossless files up to 24-bit/192 kHz, as well as DSD 2.8MHz and 5.6MHz tracks (the audiophile format of SACD).
Last, but not least, the Denon DCD-900NE CD player has been developed to complement the PMA-900HNE, creating a full stack able to reproduce any type of digital music. Denon have incorporated the AL32 Plus digital signal processing and filtering, while the device features an integrated USB port that supports high-resolution playback up to PCM 192kHz/24bits and DSD 2.8MHz/5.6MHz. The vibration-resistant design isolates the player from unwanted energy, delivering only the purest audio signal in any system.
For more information: https://www.denon.com/
---