Denon Introduced the DHT-S217 Soundbar with built-in subwoofers.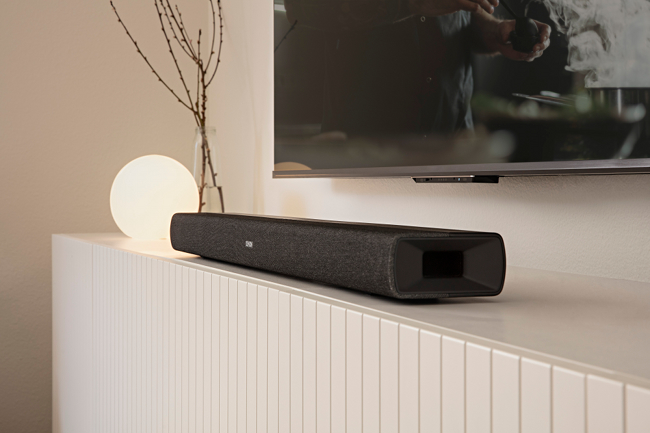 Source: Press Release, Last Accessed: 2022/04/21
Denon announced the launch of the Denon DHT-S217 full-range Dolby Atmos soundbar. According to the press release, the DHT-S217 delivers superb clarity including crystal-clear dialogue with authoritative bass response from two on board subwoofers that will certainly please both music and movie enthusiasts. The DHT-S217 also incorporates Dolby Atmos 3D audio technology for a lifelike, cinematic surround sound experience sure to elevate the performance of the latest 4K TVs.
At a 6.6 cm in height, the DHT-S217 can be placed in front of the TV without obstructing the bottom edge of the display or it can be easily wall mounted. With Dolby Atmos, coupled with enhanced bass response thanks to dual down-firing subwoofers, matched seamlessly to a pair of high-performance midrange drivers and tweeters, the listeners will enjoy an unmatched immersive 3D audio experience in this price-class, the company says. Listeners can also choose to effortlessly stream their favorite music, with room-filling clarity, to the sound bar from a smart phone or tablet via Bluetooth.
The soundbar easily connects to most TVs using the supplied HDMI or optical cables, facilitating intuitive control of the sound bar volume using the TV's remote. The DHT-S217 offers a choice of four sound modes (Movie, Night, Music, and Pure), enabling listeners to choose the perfect mode for any occasion. The Pure Mode bypasses all surround processing and other adjusted characteristics for the most audiophile listening experience.
The Denon Dialog Enhancer is a feature that improves dialogue clarity with three different modes—ideal for movies or TV content where dialogue comprehension is paramount. The Dialogue Enhancer enables listeners to adjust the dialogue level without affecting overall program volume.
The DHT-S217 availability will vary by region, beginning with Japan in late April, followed by all other regions in May with pricing at €269.
For more information: https://www.denon.com/
---