Elipson unveiled preamplifier/power amplifier pair.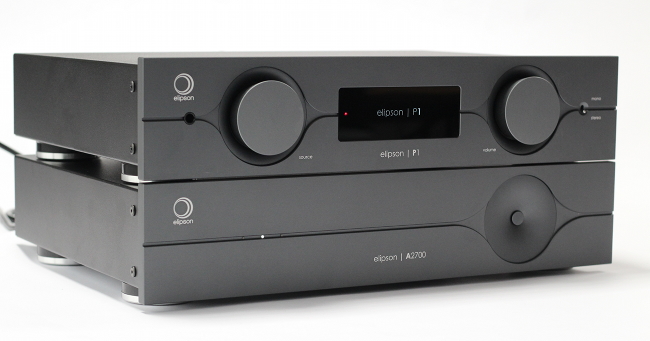 Source: Press Release, Last Accessed: 2022/06/20
Elipson recently announced a pair of top-range preamplifier and power amplifier, named the P1 and the A2700 respectively. The preamp is of a modular design, offering both a phono and a DAC board, while the power amp is a high power class D design.
This modularity, both for the analogue section (MM/MC Phono Card) and for the digital section (D/A Card) is supported by an internal software upgradable by the user by means of an easily accessible USB socket.
According to the press release, beyond thr modularity, the common vector of the Elipson electronics is -above all- sound transparency. Thus the techniques used are all oriented towards minimizing background noise and distortion. Essential elements here are the switch-mode power supply (whose switching frequency, 100 kHz, is well beyond the audio band), the use of very low noise regulators for the analogue circuity and the absence of spectral lines at 100 Hz and all its harmonics, combined with the high power rejection of the analogue circuits used.
The preamp features two single ended and one balanced analog input, single ended and balanced output and subwoofer outs. Phono board adds ΜΜ and MC inputs, while the DAC board includes standard S/PDIF digital inputs (optical and coaxial) and a USB-B input for streaming through a computer host.
The power amp yields 400Wrms at 8 Ohm loads, 700Wrms at 4 Ohms and 900W in impulse mode, in 2 Ohms. The A2700 can be bridged to mono, offering 1400Wrms (2500W peak) under 8 Ohms without risking thermal runaway. Connectivity includes single ended and balanced inputs.
For more information: https://en.elipson.com/
---