Furutech's HF-X-NCF ultra-high speed HDMI cable.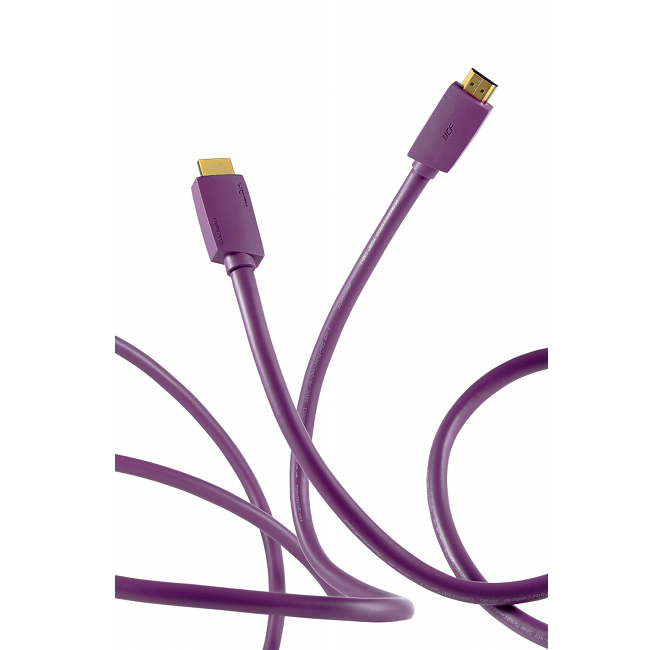 Source: Press Release, Last Accessed: 2021/09/30
Japanese cable and connector specialist Furutech offers an HDMI cable for improved audio and video performance. The HF-X-NCF ultra-high speed HDMI cable features a connector shell incorporating the company's own proprietary Nano Crystal Formula (NCF).
According to the published information, NCF uses a special crystalline material that has two "active" properties. First, it generates negative ions that eliminate static. Second, it converts thermal energy into far infrared. Furutech combines this remarkable material with nano-sized ceramic particles and carbon powder for their additional "piezoelectric effect" damping properties. The resulting Nano Crystal Formula is the ultimate electrical and mechanical damping material, the company says. By eradicating vibration and static derived noise, it enables an increase in sound and picture resolution, boosts color vividness and delivers blacker backgrounds, Furutech states. To ensure stable, ultra-high speed (8K/60p/48Gbps) transmission, the HF-X-NCF HDMI cable is constructed with a rigid build, while remaining highly flexible. Key features and specifications include 26 AWG silver-plated μ-OFC main conductor, thick layer of gold plating on contacts, double layer aluminum foil shielding for each twisted conductor, plus a third copper braiding layer, optimum damping and insulation materials throughout, including special grade high density and foamed polyethylene and a robust yet flexible anti-resonance sheath. All metal parts are treated with Furutech's trademark two-stage "Alpha" cryogenic and demagnetization process.
The cable is available in 1.2m, 2.5m, 3.6m and 5m lengths and supports 8K/60p/48Gbps, 4K/120p/32.08Gbps data rates. Compatibility includes HDCP1.4/2.2/2.3, eARC/ARC, HDR10/HDR10+, VRR/60Hz~240Hz (Refresh rate), DSC, QMS, QFT and ALLM standards.
For more information: https://www.furutech.com/
---