Grimm Audio says "Spectacular" firmware update for MU1 is available.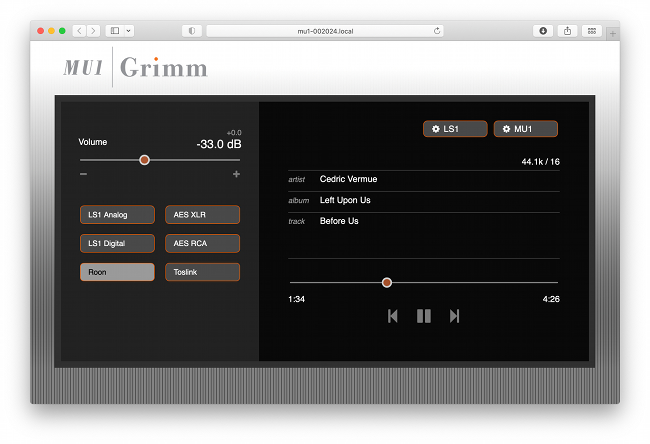 Source: Press Release, Last Accessed: 2022/04/08
Grimm Audio announced the new v1.4.0 firmware for their famed MU1 music player. Almost six months of work went into this release. The added functions can easily be called spectacular, the company says.
First of all, Grimm Audio managed to improve the up- and downsampling algorithms of the MU1. "In this 'next generation' process we further reduced the rounding noise in the audio band, to unearthly low levels. The result is even more realism in textures and precision in the 3D stereo image." Says Eelco Grimm, Creative Director of Grimm Audio.
Another interesting improvement is the web server that is now built into the MU1. After scanning a QR code in the MU1 menu, any type of browser (in PC, tablet or phone) can control the MU1 playing functions, and, also, its preferences. Additionally, it can control all preferences of a connected Grimm Audio LS1 system.
A unique addition to this music player is surround playback capabilities. The MU1 features three pairs of digital outputs that in stereo mode all play in parallel. In Surround mode they become sources for 5 LS1s or DAC channels. A home-made high speed DMA interface between the CPU (that runs Roon) and Grimm's FPGA processor guarantees stable playback up to surround DXD and DSD256.
On top of that there are many improvements and bug fixes such as an optional 3 dB headroom (to avoid inter-sample clipping with unattenuated digital audio connections such as to the LS1), dim functions for the display, and convenient trouble shooting tools.
Grimm Audio considers this update a new mile stone in the development of their MU1 platform, offered to all customers as a free download.
For more information: https://www.grimmaudio.com/
---