GO bar: iFi's new pocket DAC/Headphone amp.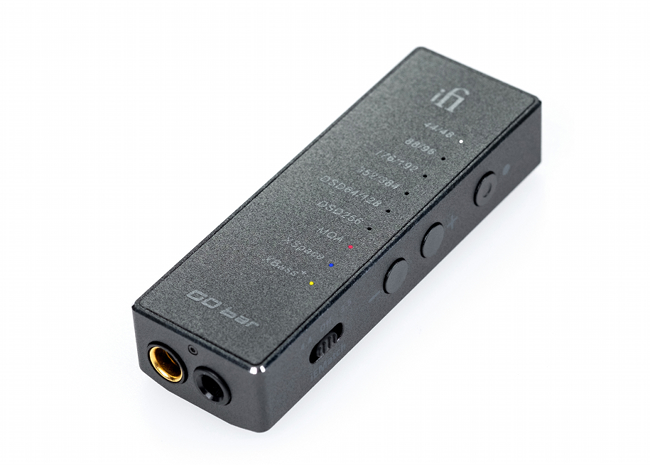 Source: Press Release, Last Accessed: 2022/05/31
Last year, iFi introduced the GO blu, first in a new line of ultra-portable, pocket size DAC/amps called the GO Series; now it's joined by the GO bar, taking the "big sound in a small package" concept to a whole new level, the company says.
Like to GO blu, the GO bar is eminently pocketable, with a robust yet lightweight alloy enclosure that measures 65x22x13mm and weighs 28.5g. But, while the GO blu majors on the convenience of Bluetooth connectivity to devices like smartphones when you're on the go, the GO bar connects to source devices via USB and focuses on pure performance.
The GO bar's digital audio circuitry is based around a 32-bit Cirrus Logic DAC chip, coupled with a customized digital filter and iFi's GMT (Global Master Timing) precision clock system. The DAC is fed by an XMOS microcontroller, which processes the audio data received at the USB input. Hi-res PCM up to 32-bit/384kHz, alongside with DSD up to DSD256, and single- and double-speed DXD are supported. The DAC's architecture maintains DSD data in true native form.
The GO bar's analogue circuitry features balanced design and high-quality discrete components such as TDK C0G ceramic capacitors, Panasonic OS-CON aluminum polymer capacitors, and high-density tantalum capacitors, plus Taiyo Yuden and Murata inductors.
With an output of 550mW (into 64 ohms) and 7.5V (into 600 ohms), no headphone amp of such diminutive size can match its impressive ability to drive even tricky headphone loads – that's enough current drive for 16-ohm headphones and sufficient voltage drive for 600-ohm headphones, iFi states.
The GO bar incorporates IEMatch, to attenuate power to suit high-sensitivity headphones and in-ear monitors and Turbo mode, to ramp up the gain by 6dB to satisfy more power-hungry headphone types. Also included are four digital filter options and iFi's familiar analogue processing modes, XBass+ and XSpace, that can also be switched in or out of the signal path according to taste.
A pair of headphone outputs is included, one fully balanced 4.4mm and one 3.5mm output utilizing iFi's "S-Balanced" technology that -according to the press release- cuts noise and crosstalk by 50 per cent.
The GO bar and a collector's edition named GO bar Anniversary Edition are already available.
For more information: https://ifi-audio.com/
---