iFi Audio Uno DAC/Headphone Amplifier – the key to great mobile sound for everyone.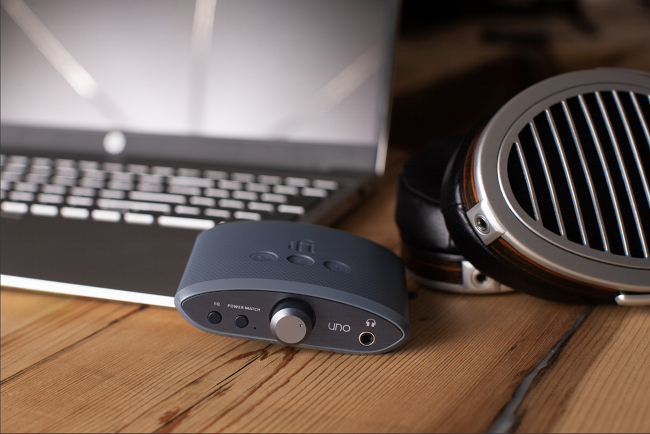 Source: Press Release, Last Accessed: 2022/11/01
The Uno, by iFi, is a first-rung audio product – a DAC/headphone amp for people who may not know what a DAC is, but know they want better sound quality when they listen to music, stream movies and TV shows, play games and enjoy other forms of audio and AV content, from Apple Music and Tidal to YouTube.
Small enough to fit in the palm of your hand, the Uno's cute, curvy case is made from tough, mineral-filled polymer and contains sophisticated DAC and headphone amp circuitry to upgrade the basic audio tech in all sorts of digital devices like smart phones the company says. Its USB-C input connects to Windows PCs, Apple Macs, and all manner of smartphones and tablets. It doesn't require its own power source, receiving both power and audio data from the device to which it's connected. With an SRP of just $79, Uno provides the key to unlock bigger, bolder, more detailed sound, elevating your digital entertainment experience to a thrilling new level.
The Uno draws from the experience iFi has gained in developing a range of multi-award-winning DACs at a wide spread of prices, from under $200 to over $3000. At its heart lies a power-efficient, high-performance DAC chip from ESS Technology's Sabre HiFi series – the ES9219MQ/Q – benefiting from 32-bit HyperStream III architecture. This combines with Quad DAC+ and Time Domain Jitter Eliminator technologies, plus clock circuitry utilizing a specialized crystal oscillator, to deliver ultra-low distortion, excellent clarity and impressive dynamic range, iFi stated.
The Uno's analogue audio circuitry includes the headphone amp, which feeds a 3.5mm socket at the front and delivers 211mW into 32 ohms, and 3.5V into 600 ohms, ensuring compatibility with a wide range of headphone and earphone types. The stereo RCA output at the rear is equally well served, benefiting from iFi's widely praised ability to deliver high-grade audio circuitry in remarkably affordable devices. All the analogue outputs are gold-plated to resist tarnishing and maintain conductivity over time.
For more information: https://ifi-audio.com/
---