Klipsch Jubilee surpasses the Legendary Klipschorn as the Heritage Series flagship.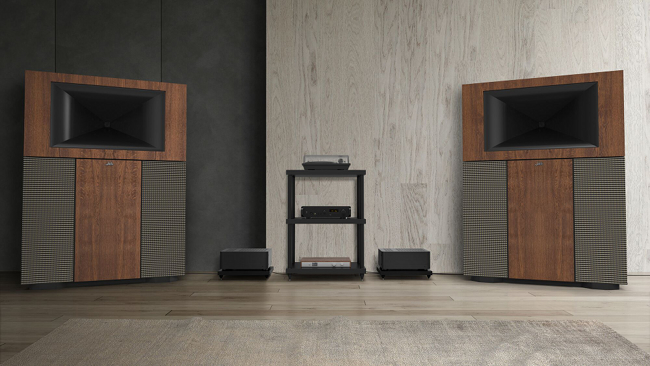 Source: Press Release, Last Accessed: 2022/06/01
Klipsch unveiled the new flagship of its award-winning and legendary Heritage series of speakers—the Klipsch Jubilee. The Klipsch Jubilee is the only speaker in the company's 75-year history to surpass the legendary Klipschorn in its spot at the top of the Klipsch Heritage series.
According to the press release, the Klipsch Jubilee is the final project founder Paul W. Klipsch worked on. It was his dream to create a fully horn-loaded speaker that would satisfy the most ardent audiophiles. Originally intended to be the successor to the Klipschorn, PWK soon realized it was much more than that. Twenty-first-century advancements in engineering and technology have allowed Klipsch to make his dream a reality.
The Klipsch Jubilee is a fully horn-loaded two-way loudspeaker, designed to deliver the ultimate listening experience. It incorporates the latest acoustic technology, including a patented, horn-loaded, vented, low-frequency enclosure with dual 12-inch woofers and three 4-inch ports. An all-new, horn-loaded, compression driver with a 7-inch axiperiodic titanium diaphragm provides wide bandwidth for seamless clarity and accuracy, the company says.
An active crossover network ensures the highest degree of accurate, true-to-life sound reproduction through a built-in digital signal processor (DSP) and equalizer. It enables using separate amplifiers for the high frequency and low-frequency speakers, eliminates phase cancellation in the crossover region and may be shelf or rack-mounted.
Two standard real-wood veneer finishes — satin black ash and American walnut complement modern furnishings.
The Klipsch Jubilee speakers (US MSRP $35,000/pr) are now available through Certified Klipsch Heritage dealers.
For more information: https://www.klipsch.com/
---