Ludic Ismo record cleaning machine makes record cleaning easy and affordable.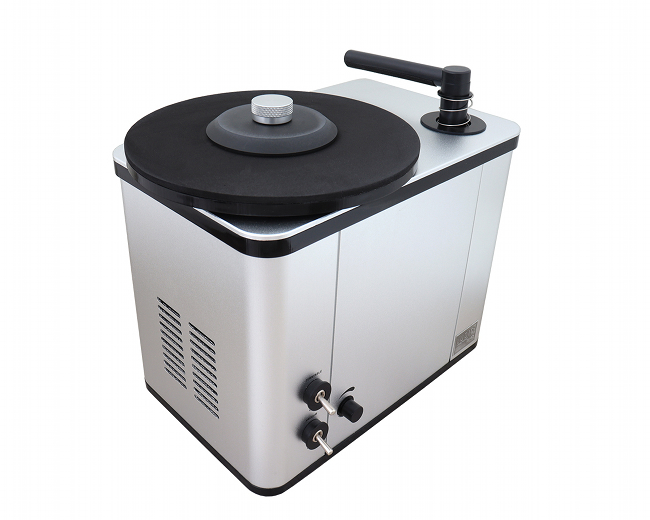 Source: Press Release, Last Accessed: 2022/01/10
This is an easy-to-use, affordable to use solution, for everyone with a serious vinyl collection and the need to keep his records in a good, clean condition, for high quality analog listening.
The Ludic Ismo Record Cleaning Machine gives you a stable platform to attach your disc so it's easy to apply the Record Cleaning Fluid. You can clean by using the supplied wooden brush, and the Ludic Ismo won't slow down or make your record slip on the platter when you apply more pressure. The Ismo dries the record by suction and the vacuum motor is strong enough to do its job in just a blink of an eye.
The ISMO record Cleaning Machine is solidly built. The full aluminum body forms a strong base for all its components. The platter is stable and smaller than the record with some soft rubber on it, so no damage for your vinyl. This smaller size of the platter keeps the platter dry if you mistakenly apply too much fluid to the disc. The heavy-duty bearing means that the platter rotates without friction and without slowing the rotation when pressure is applied.
The supplied record clamp attaches to the threaded spindle, it holds the disc firmly in place preventing it from slipping, it also protects the record label from moisture,and damage during the cleaning process.
Use of the cleaning machine is quite easy, according to Ludic. You need to put the record on the platter and screw the clamp on the spindle, start rotating the platter by flipping the upper switch and apply the Ludic cleaning fluid and spread it evenly over the surface with the brush. When the fluid covers the record evenly, allow a few rotations, apply a bit more pressure with the brush, put the vacuum arm above the record, flip the lower switch to turn on the vacuum, and let it spin for about two rotations and the vacuum will remove all dirt and debris from the record's surface.
For more information: https://www.ludic-audio.com/
---