Luxman released LMC-5 moving coil phono cartridge.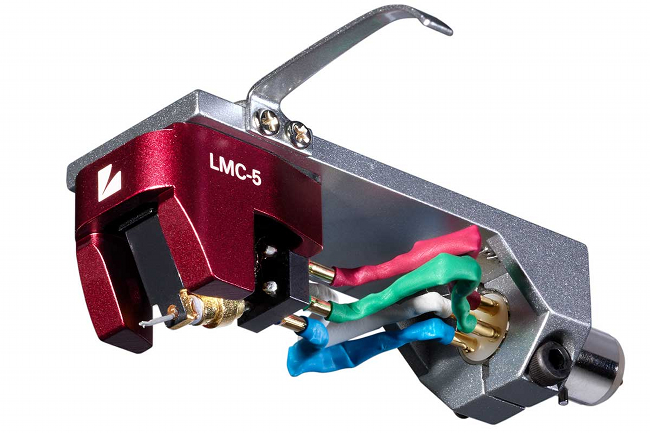 Source: Press Release, Last Accessed: 2022/03/11
Not since the original LMC-1 of 1981 and 1982 follow-up model LMC-2 has Luxman offered a phono cartridge. That 40-year absence ends now with the introduction of a new moving coil product code-named LMC-5.
According to the press release, to reveal the full richness of vinyl playback, Luxman engineers decided on a moving coil design, preferred for ultra-low armature moving mass. A Shibata profile stylus type was selected for its ability to deliver extended high frequencies with low groove tracing noise, even on challenging inner grooves. This solid nude, square shank, diamond stylus is fixed to a low mass, 0.5 mm aluminum pipe cantilever, with this combination preferred for sonic characteristics and high tracking ability. To secure the fulcrum of the vibrating system, the single-point support uses a high-precision piano wire some 80 micrometers in diameter, about the thickness of a human hair.
The MC generator incorporates a cross-mounted iron core with the left and right coils wound symmetrically for superior channel separation. To achieve optimally consistent coil windings with minimum moving mass, the coils themselves are even thinner than the piano wire. Luxman chose the thinnest available Urethane Enameled Wire (UEW), 30 micrometers in diameter. Because the coil and magnetic field are uncommonly compact, the cartridge is highly resistant to external noise.
Luxman engineers understood that the coil and the cantilever of closed-body moving coil cartridges are particularly sensitive to reflected sound. For this reason, the LMC-5 has an open-body design. To control weight and suppress resonance, the cartridge outer housing is pared down substantially. Even the housing's inverted egg shape is carefully tailored to minimize sound reflection and resonance. The product of painstaking engineering and extended listening tests, the LMC-5 reproduces treasured vinyl with effortless musicality, the company says.
The precision machined aluminum body is anodized to a deep red, Luxman's corporate color, with a laser etched Luxman "L" in front. In the best tradition of Japanese cartridge manufacture, each cartridge is carefully assembled by Luxman's craftspeople and delivered to music lovers worldwide.
The LMC-5 moving coil cartridge is available now at a suggested retail price of $2,695.
For more information: http://www.luxman.com/
---