MDA200 : McIntosh unveiled a new D/A Converter.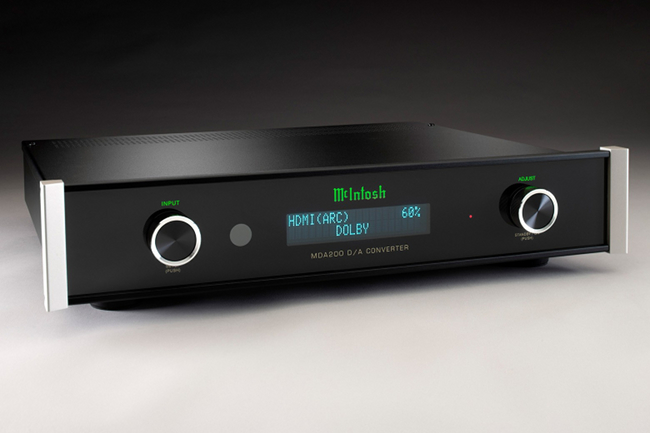 Source: Press Release, Last Accessed: 2022/11/17
The new MDA200 DAC features McIntosh's DA2 Digital Audio Module used in the award-winning MA12000 integrated amplifier and C2700 and C53 preamplifiers, offering this successful solution as a standalone device.
According to the press release, the DA2 in the MDA200 is powered by a next generation, Quad Balanced, 8-channel, 32-bit digital-to-analog converter (DAC). This audiophile-grade DAC features enhanced dynamic range and improved total harmonic distortion, the company says.
The DA2 supports high resolution digital audio playback, as the USB input supports native playback of up to DSD512 and DXD up to 384kHz, while the coax and optical inputs can decode digital music up to 24-bit/192kHz. The MDA200 includes 7 digital audio inputs: 2 coaxial, 2 optical, 1 USB, 1 MCT (to pair with the brand's MCT series of SACD/CD Transports), and 1 audio-only HDMI Audio Return Channel (ARC) connection.
The new device further serves as an upgrade to replace older D/A converters that may now be obsolete and outdated, McIntosh stated. Keeping in mind that digital music formats and technologies change and improve over time, the DA2 is designed with the ability to be replaced by a newer digital audio module in the future – positioning the MDA200 as a timeless investment and addition to a home audio system for years to come.
Other key features include, balanced and unbalanced analog outputs and McIntosh's iconic design elements, including illuminated logo, rotary control knobs, custom machined aluminum end caps and black glass faceplate. The DAC has a "Roon Tested" designation from Roon Labs The MDA200 is available via authorized McIntosh dealers with an MSRP of $4,000 USD.
For more information: https://www.mcintoshlabs.com/
---