MoFi's SourcePoint 10 Loudspeaker.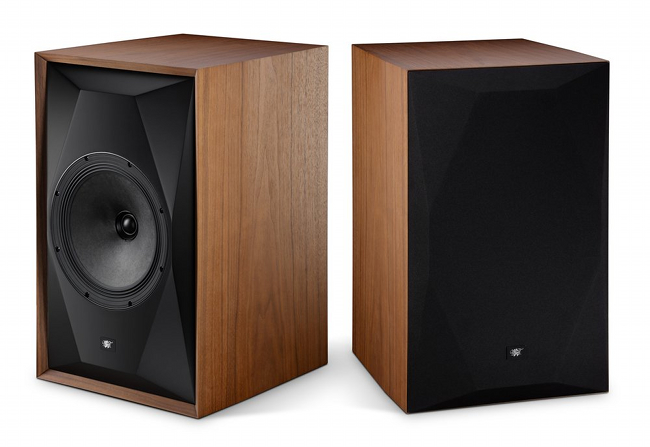 Source: Corporate website, Last Accessed: 2022/11/14
The SourcePoint 10 is designed like a cost-no-object loudspeaker, a complete from the ground up approach, to deliver the highest sound quality and value and in its heart lies the innovative Twin-Drive high-flux neodymium magnet system by Andrew Jones.
According to MoFi's published information, it is not enough to simply optimize the frequency response of the woofer and tweeter. It is also critically important to minimize distortion in the motor structure of the drive unit. If the motor has distortion, it will generate new frequencies outside of the original signal. The company, therefore, have been very deliberate with the design of the motor to reduce these distortions. The Twin-Drive system creates a fully symmetrical magnetic field, eliminating flux modulation for extremely low intermodulation distortion (IMD). This technical achievement is an important part of why the SourcePoint 10 sounds so pure and accurate. Custom-developed by Andrew Jones through 18 months of R&D, the all-new 10-inch Concentric driver delivers stunning clarity and deep bass impact, MoFi states. The 10-inch paper-pulp cone has nearly 2.5x the surface area of a typical 6.5-inch bass driver, and barely needs to move in order to produce large and dynamic sound. Fitted centrally within the bass driver is a 1.25-inch soft dome tweeter with a wide-roll surround and large diameter voice coil. The tweeter has great power handling and minimal thermal compression, allowing it to come in at 1.6kHz and deliver smooth response beyond 30kHz.
The SourcePoint 10 uses thick MDF panels and extensive internal bracing, with the top, bottom, and sides being 1-inch thick MDF wrapped in beautiful real wood veneer. The faceted front baffle is 2-inch thick MDF finished in a smooth satin black coating.
With 91dB sensitivity, the SourcePoint 10 can be driven with as little as 30 watts of power and the nominal impedance of 8 ohms and a minimum impedance of 6.4-ohms means they are amplifier friendly.
Available finishes are Satin Walnut and Satin Black Ash, with furniture-grade real wood veneer that is book-matched for mirror-imaged grain patterns on both of the speakers.
For more information: https://mofi.com/collections/mofi-electronics
---