Stealth: Music Hall's first direct drive turntable.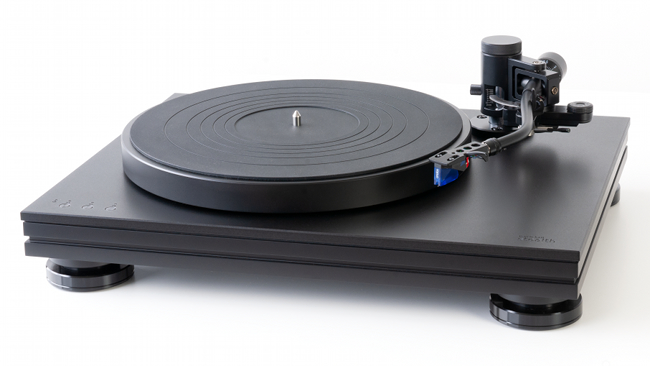 Source: Corporate website, Last Accessed: 2021/11/20
The music hall Stealth turntable, their first direct drive turntable, features a brushless low-torque motor that automatically stops running at the end of a record and a tonearm which allows VTA adjustment during playback.
This substantial 24-pound turntable attenuates external vibrations by utilizing what is reported as "an unusually heavy, multi-layer and well-damped chassis as well as large, viscous-elastomer damped height-adjustable feet and a 4 pound, elastomer-damped (…) aluminum platter".
Stealth is a 3-speed direct drive turntable that comes complete with an S-type tonearm, a detachable headshell, and a factory-mounted and adjusted Ortofon 2M Blue cartridge. The turntable features touch-activated speed controls for ease of use and offers an auto-stop feature that turns off the direct-drive motor at the end of a record.
The direct drive architecture is based on a low torque, brushless motor and offers 33, 45 and 78rpm, with a 1,8kg aluminum platter covered by a vibration-damping rubber mat. The system includes an automatic standby mode activated after 20 minutes of non-use and it is quite easy to place on any surface with its vibration-damping feet.
Tonearm is a statically balanced, four-bearing design with a calibrated dial-based tracking force adjustment and a spring-based anti-skate adjustment. The VTA that can be adjusted while the record is playing.
For more information: https://musichallaudio.com/
---