NAD announced the C 3050 LE integrated amplifier, a tribute to 3030, a 1970s classic.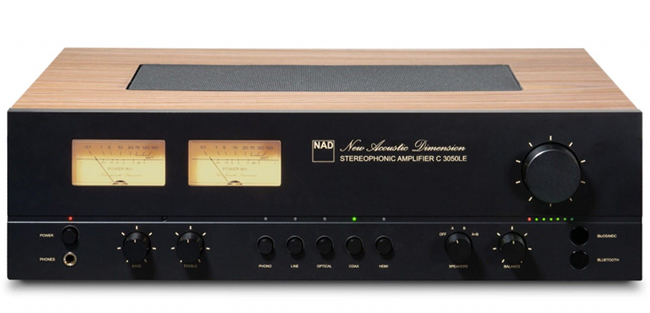 Source: Corporate website, Last Accessed: 2022/10/26
The new C 3050 LE pays homage to NAD's 3030 amplifier, a 1970s classic. Clad in an open-grained walnut sleeve, the C 3050 LE integrated amplifier has a dark gray front panel with the original "New Acoustic Dimension" logo in its 1970s cursive typeface, dual VU meters, and push-button controls for source selection. On the back of each unit is an individually numbered plaque bearing the amplifier's production number.
Employing NAD's acclaimed HybridDigital UcD amplifier technology, the new amp can deliver 100Wpc of continuous power and 135Wpc of instantaneous power, for effortless delivery of musical transients, the company says.
The digital section is built around Texas Instruments' PCM5242 high-resolution differential DAC, a design noted for high tolerance to clock jitter, and excellent dynamic performance. The C 3050 LE incorporates the latest generation of NAD's Modular Design Construction future-proofing technology. With MDC2, owners can add new features and functions by inserting an MDC2 module into a slot at the back of the component. MDC2 features a all-new architecture that enables two-way communications between the module and host component. Pre-installed on the C 3050 LE, the MDC2 BluOS-D adds two leading-edge capabilities: Dirac Live room correction and BluOS high-resolution multi-room music streaming.
Connecting to your home network via Wi-Fi or wired Ethernet, the C 3050 LE gives you access to the award-winning BluOS multi-room music management system. Using the intuitive BluOS app, you can cue up music from more than 20 popular streaming services, including several that offer lossless and high-res audio, such as Amazon Music Ultra HD, Deezer, Qobuz and Tidal. Like all BluOS-enabled products, the C 3050 LE supports high-res audio to 24-bit/192kHz. It also features MQA decoding and rendering capability, for studio-quality playback from Tidal. In addition, BluOS provides access to thousands of internet radio stations, and lets you play music from your own digital library.
Connectivity includes, also, line-level analogue, coaxial digital, and optical digital inputs, an MM phono stage and an HDMI eARC interface, enabling the C 3050 LE to serve as the hub or a two- or 2.1-channel home-theater setup.
For more information: https://nadelectronics.com/
---