Odin Gold: Supreme Reference cable range from Nordost.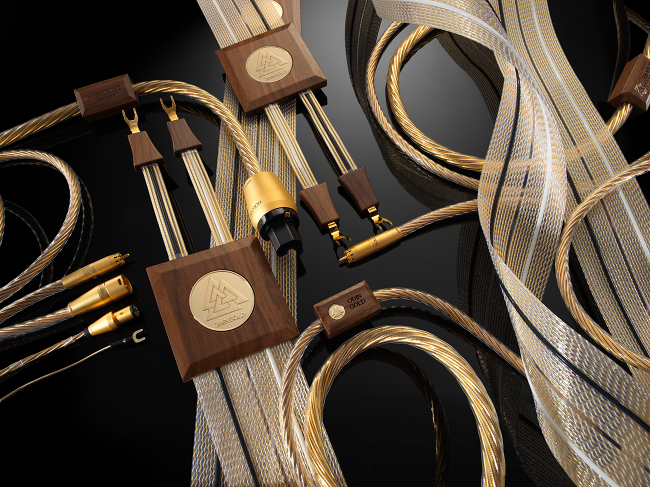 Source: Press Release, Last Accessed: 2021/08/12
Nordost says that Odin Gold achieves the unthinkable, eclipsing Odin 2. While Odin 2 will continue to remain available as a beacon of audio prowess throughout the industry, Odin Gold is now taking its place at the apex of Nordost offerings, as their new flagship line.
According to the published details, Odin Gold advances the revolutionary technology generated throughout the development of the Odin 2 range, and improves upon its elemental composition. The Odin Gold Power Cord is constructed using seven gold-plated, close tolerance, 14 AWG 99.999999% oxygen free copper conductors. Nordost's patented Dual Mono-Filament technology creates a virtual air dielectric between the extruded FEP insulation and each individual conductor, while their gold-plated TSC technology is carried throughout the cable and into its purpose-built, 100% shielded, gold-plated HOLO:PLUG connector. Odin Gold Power Cords are available with gold-plated HOLO:PLUG US (Nema), EU (Schuko), AUS or UK to HOLO:PLUG IEC-C15 or IEC-C19 terminations.
Odin Gold Analog Interconnects consist of ten gold-plated, 23 AWG 99.999999% OFC conductors, each utilizing proprietary Dual Mono-Filament technology, precise FEP extrusion, and gold-plated TSC shielding and terminated in Nordost's patented, gold-plated HOLO:PLUG connectors, in both phono and balanced varieties.
Odin Gold Tonearm Cable + consists of four, gold-plated, solid core 23 AWG 99.999999% OFC conductors, wrapped in a patented Dual Mono-Filament suspension. The conductors are then individually shielded using Nordost's unique, gold-plated TSC technology, allowing for 100% coverage and protection from external pollution (such as RFI and EFI) and crosstalk, the company says.
Odin Gold Loudspeaker Cables begin with a base constructed using 28 gold-plated, solid core 20 AWG 99.999999% OFC conductors. Each conductor takes advantage of Nordost's Dual Mono-Filament technology and is encased in a high purity FEP extrusion. However, in contrast to Nordost's previous loudspeaker cables, Odin Gold utilize an innovative tiered-termination process which eases the transition from cable to connector over several stages. This process minimizes the conversion points of conductors, using eight gold-plated, 14 AWG 99.999999% OFC conductors on either end of the cable.
For more information: https://www.nordost.com/
---