Polk Audio introduced the MagniFi Max AX and the MagniFi Max AX SR Dolby Atmos/DTS:X Sound Bar Systems.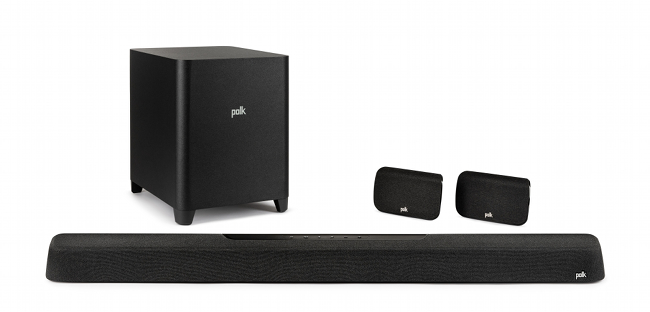 Source: Press Release, Last Accessed: 2022/09/06
Polk Audio introduced two new flagship sound bar systems, MagniFi Max AX and MagniFi Max AX SR. These compact systems bring movies, TV, music and games to life in immersive, multidimensional Dolby Atmos and DTS:X sound, thanks to 11-speaker arrays featuring dedicated center channels, up-firing height speakers and Polk's patented Stereo Dimensional Array (SDA) technology. Both models include wireless subwoofers for extended bass response; MagniFi Max AX SR adds two wireless surround speakers for total sonic immersion. Music streaming, custom sound modes and eARC TV connectivity round out the features of these all-in-one, accessibly priced systems.
MagniFi Max AX sound bars feature dedicated up-firing speakers that provide the overhead element of Dolby Atmos and DTS:X object-oriented sound formats. Polk's fourth-generation patented SDA technology eliminates interaural crosstalk to deliver an ultra-wide soundstage that expands beyond the sound bar to fill the room. MagniFi Max AX presents sound sources with pinpoint accuracy, providing the most lifelike imaging of any sound bar in its class, Sonos says.
MagniFi Max AX and MagniFi Max AX SR each include a 10-inch down-firing subwoofer with wireless connection, while one-touch Movie, TV and Music Modes optimize MagniFi Max AX's bass response, clarity and soundstage for every listening scenario. Night Mode raises speech and lowers bass for late-night listening. VoiceAdjust technology raises the volume of voices over other soundtrack elements, for enhanced intelligibility and BassAdjust balances the low-end response of the sound bar and subwoofer for seamless bass.
MagniFi Max AX and MagniFi Max AX SR support Wi-Fi streaming via Apple AirPlay 2, Google Chromecast, Spotify Connect, or any Works with Alexa–enabled music service as well as Bluetooth.
For more information: https://www.polkaudio.com/
---