Polk Audio Expands its MagniFi Soundbar Series with the MagniFi Mini AX ultra-compact soundbar.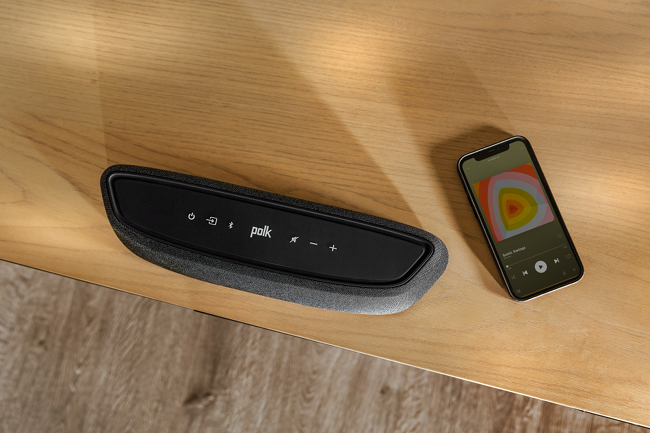 Source: Press Release, Last Accessed: 2022/03/15
Polk Audio announced its latest sound bar system, the ultra-compact MagniFi Mini AX that provides music and movie enthusiasts with immersive audio playback thanks to Dolby Atmos and DTS:X built-in, optimized through Polk's patented SDA technology. Users will also have access to millions of songs, podcasts, and more with high-quality Wi-Fi streaming via Apple AirPlay 2, Chromecast, Spotify Connect, as well as the convenience of Bluetooth connectivity. The MagniFi Mini AX connects effortlessly to any TV and comes equipped with a powerful wireless subwoofer, delivering the rich, deep bass and dramatic impact that today's latest streaming blockbusters demand.
The MagniFi Mini AX sound bar leverages 50 years of Polk loudspeaker engineering to deliver superb audio quality from a sleek 37cm wide design. Equipped with an advanced 5-speaker array and a wireless down-firing subwoofer, suited to upgrade the sound of any TV, this compact, powerful sound bar system provides deep bass, detailed highs, and an expansive 3D soundstage rivaling much larger sound bars. Polk engineers further enhanced the surround experience by integrating their patented fourth generation SDA technology to make an even wider, more accurate sound stage than provided by Dolby Atmos or DTS:X alone. The MagniFi Mini AX utilizes certified Dolby Atmos and DTS:X surround sound to create a lifelike, cinematic listening experience for any room.
In addition to being a great solution for movies, TV, and gaming, with MagniFi Mini AX customers will enjoy higher-quality music streaming from their phone, tablet, or computer over Wi-Fi with Apple AirPlay 2, Google Chromecast, and Spotify Connect. MagniFi Mini AX easily connects to mobile devices via Bluetooth, too.
With MagniFi Mini AX, Polk's patented VoiceAdjust speech-clarifying technology works with the sound bar's dedicated center channel driver so users can increase the level of voices without affecting the rest of the soundtrack, never again missing a single word.
The powerful, next-generation, wireless down-firing subwoofer that comes as part of the MagniFi system connects to the sound bar automatically and can be placed anywhere up to 6.7 meters away. BassAdjust feature optimizes the blending of low frequencies between the sound bar and subwoofer.
The MagniFi Mini AX offers HDMI eARC/ARC connectivity (HDMI cable included), along with digital optical and analog AUX-in. A convenient OLED display makes settings easy to understand and disappears when not in use. MagniFi Mini AX comes with a remote included, works with most TV remotes out of the box, and is Roku TV Ready for even easier setup and control.
For more information: https://www.polkaudio.com/
---