Pro-Ject Audio unveiled an automatic deck.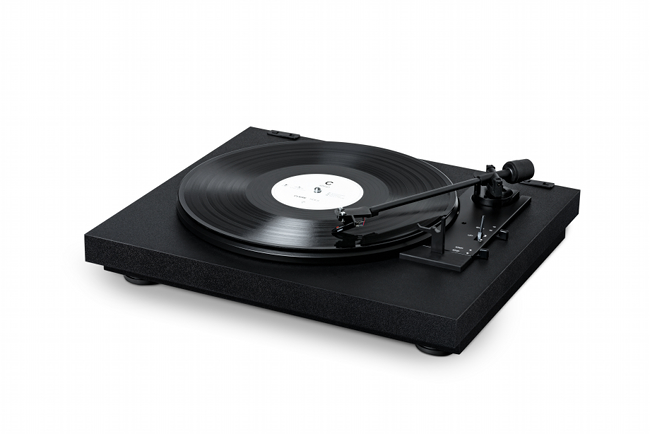 Source: Press Release, Last Accessed: 2022/02/07
Pro-Ject Audio Systems recently announced that they finally found access to precisely the technology that allows them to make automatic turntables without degrading the sound quality. Handmade in Germany, by a traditional manufacture with a wealth of experience in automatic turntable production, this reliable technology allows them to introduce their sound and philosophy to an entirely new audience, once again making accessible, affordable, high-quality Hi-Fi.
The Automat technology has fully automatic start/stop with the automatics being completely disengaged and decoupled during the entire run-time of the record. The fully mechanical system engages when you press start and the tonearm is automatically moved to the lead in groove of the record. Once playing, the automatics are completely taken out of the equation and are not affecting the playback quality.
In typical Pro-Ject fashion, the motor is electronically controlled and easily switch between 33 and 45 RPM with the push of a button. The built-in phono preamp makes the A1 versatile and allows you to connect it directly to any input on your amplifier or to an active speaker-set. It can also be switched off, which allows you to use your own phono preamp or your preamplifier/integrated amplifier.
The headshell is a completely new design especially for the A1. It is made of carbon fiber reinforced polymer which makes it super stable and rigid, all while keeping the weight at a lowest to work perfectly with the ultra-light-mass tonearm design.
The wooden chassis consists of the upper outer console made out of 8mm thick MDF panels, while he automatics, platter bearing and tonearm are mounted on a solid and 2cm thick MDF base plate.
The A1 features an 8.3-inch ultra-light-mass aluminum tonearm with an Ortofon OM10 cartridge factory-fitted and Pro-Ject's Connect it E phono cable. The aluminum platter is 100% made in Germany and includes a damping ring to increase weight and reduce resonances. The new feet effectively decouple the turntable from the surface it is placed on using an internal silicon damping layer.
The turntable is fully handmade in Germany and looks back on decades of experience in turntable manufacturing. The A1, including the cartridge, is available for MSRP €399,- (incl. VAT) at Pro-Ject dealers from Febuary 2022.
For more information: https://www.project-audio.com
---