Pro-Ject's BT Box E HD brings Bluetooth to your classic stereo.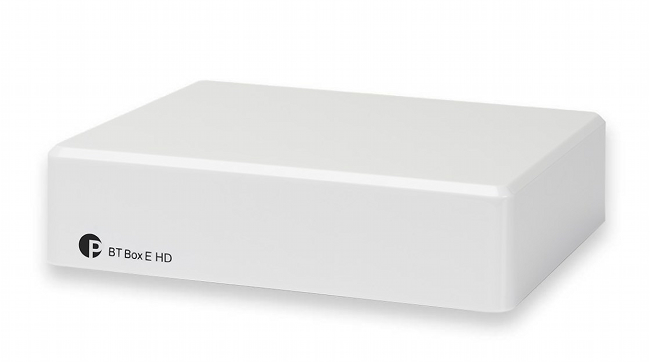 Source: Press Release, Last Accessed: 2022/09/30
This simple box makes older stereos bluetooth compatible and offers the highest level of Bluetooth transmission available so you can enjoy convenience without sacrificing quality.
The BT Box E HD is the key to Hi-Fi Bluetooth connectivity the company says. Pairing any device to the BT Box E HD is quick and easy, and each connection works reliably within a radius of up to 10 meters (when in direct sight). There is also an internal memory for up to 8 different wireless devices so that the whole family can easily stream their own content, using latest technologies like Bluetooth 5.0 and aptX-HD for elevating your mobile Bluetooth listening to true Hi-Fi stereo levels. Increased Bluetooth 5.0 range and transmission bandwidth of the new and advanced aptX-HD codec offers crisp, detailed, dynamic sound at all times, even if the Bluetooth connection quality momentarily drops, Pro-Ject states.
The device offers RCA analogue and Toslink digital outputs (switchable) and includes an outboard power supply. It is available in black or white casing.
For more information: https://www.project-audio.com/
---