Colourful Audio System: A true analog HiFi system in a package, form Pro-Ject Audio.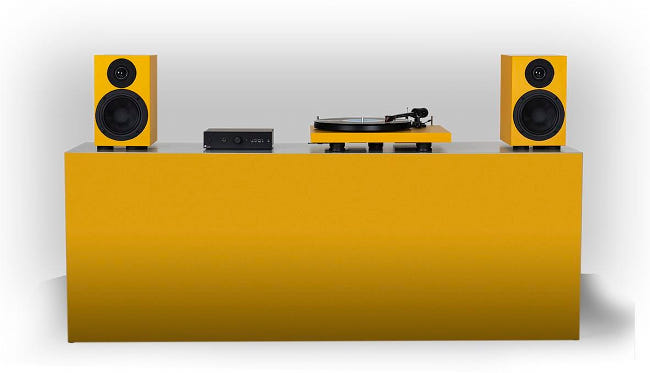 Source: Press Release, Last Accessed: 2022/10/31
Pro-Ject introduces a system-package for the music lover on a budget who doesn't want to sacrifice style or skimp on the listening experience. The Colourful Audio System consists of 3 highly acclaimed audio components, carefully matched and available in 6 different beautiful color finishes to compliment every room.
The system comprises of the MaiA (My Audio Integrated Amplifier) S3 integrated amplifier, the Debut Carbon EVO turntable and the Speaker Box 5 S2 loudspeakers. A set of Damp It absorbers is also included.
The MaiA S3 features 8 inputs, offers a phono RCA input for MM, and can, also, connect to digital sources like your TV or a CD transport via the coax or optical S/PDIF inputs and use the MaiA S3 DAC that supports up to 24bit and 192kHz. If you want to stream your music from your mobile phone, tablet or PC, you can simply connect to the high definition aptX HD capable Bluetooth 5.0 input.
The Debut Carbon EVO is based on a heavy and solid MDF plinth, with new hand-painted finishes, to look and feel better than ever before. The new platter, motor-suspension, speed control and height-adjustable feet are small details when taken individually but as a whole they add up and result in a new Debut that does not only sound better than before, but also looks and feels better and more impressive than any Debut ever did, Pro-Ject says.
The Speaker Box 5 S2 includes a 25 mm silk dome tweeter and a 130 mm fiberglass cone mid/woofer. A special, resistant and eco-friendly glue has been used to maintain rigidity over the years.
Damp it are particularly suitable for bookshelf speakers and prevent the transmission of structure-borne sound from subsonic frequencies up to 500 Hz.
The Colourful Audio System is already available in five satin solid colors and one real wood veneer finish, for MSRP €1799 (incl. VAT).
For more information: https://www.project-audio.com/
---