X8: Pro-Ject's first "True Balanced Connection" turntable.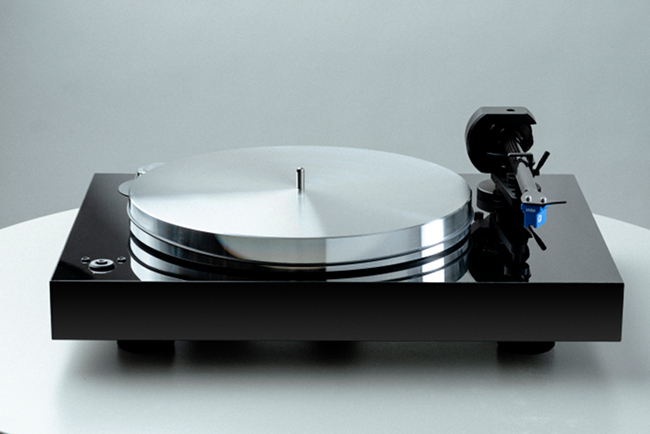 Source: Press Release, Last Accessed: 2022/04/18
Pro-Ject Audio is launching a whole line of new "True Balanced Connection" components that feature a balanced connection for the whole phono setup. The X8 is their first turntable to feature this new phono technology and is the latest addition to the X-family of turntables.
The new X8 positions itself between the X2 and the X9, the company says. The X8 comes either fitted with the Ortofon Quintett Blue MC cartridge to complement the balanced connectors – or without a cartridge. An MC cartridge opens up the possibility of an entirely True Balanced Vinyl HiFi setup.
According to the press release, the X8 turntable is a true high-end solution with major technical features adapted from the Xtension 9 and 10, including a heavy, TPE damped mass-loaded platter, which is precision lathed and balanced out of a single piece of aluminum. It is supported by a neodymium magnet which decreases the load on the bearing. Considering the massively heavy platter, this leads to a smoothly rotating base for your vinyls and perfect speed stability Pro-Ject says. The massive MDF chassis and the top of the line Pro-Ject 9cc EVO carbon tonearm have been ported over to the X8 as well.
The major differences to the Xtension 9 and 10 are found in the top of the main platter and the magnetic feet. Instead of the glued-on vinyl top on the platter, the company went back to the use of slip mats and the X8 comes with a standard felt mat. The new feet are still made out of aluminum and are still height-adjustable. The magnetic suspension has been changed to a TPE.
The X8 comes with a 5pin output jack and with Pro-Ject's standard semi-balanced Connect it E 5P-to-RCA cable. By upgrading it to the fully balanced 5P to XLR version (available separately) and using a balanced phono stage, like the Phono Box DS3 B or any of our RS/RS2 phono stages, the user is fully set-up for the True Balanced experience.
For more information: https://www.project-audio.com/
---