PS Audio unveiled their aspen FR30 loudspeaker.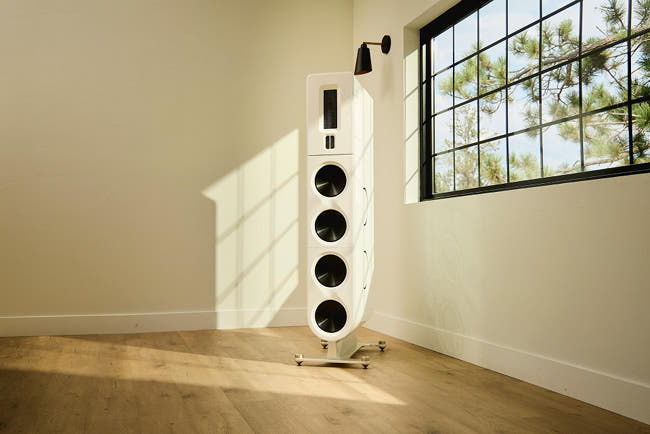 Source: Press Release, Last Accessed: 2021/12/18
PS Audio announced -near the end of last year- the aspen FR30 loudspeaker, an elegantly slim 3-way floorstander that incorporates both planar-magnetic and dynamic drivers and a host of innovative technologies to deliver extraordinary musical realism.
The new FR30 features all-new push-pull planar magnetic midrange and high-frequency transducers, complemented by ultra-low-distortion, fast-response woofers, and passive radiators. The FR30 features a unique modular design that combines sonic advantages with ease of transport and setup, PS Audio stated.
FR30's custom push-pull planar magnetic midrange transducer and dual high-frequency transducers feature an identical symmetrical motor structure on either side of their driver diaphragms. This inherently linear configuration provides lower distortion than conventional single-sided magnet structures, along with higher efficiency, the company says. The drivers are based on N52 neodymium magnets and diaphragms made from Teonex film and are housed in a sealed sub-enclosure module.
The PS Audio aspen FR30 utilizes four 8-inch cast-frame, aluminum-cone woofers with massive magnets. The woofers are augmented by four 10-inch side-firing passive radiators, for authoritative low-frequency extension. The FR30 presents an easy-to-drive load with an 87 dB sensitivity, making it ideal for use with a wide range of amplifiers.
The loudspeaker has a unique modular design. The midrange/tweeter section contains the acoustically isolated crossover network and the section is removable, enabling ease of shipping and setup. The enclosure is made from extensively-braced MDF with a front baffle formed from a dense, rigid and well-damped fiberglass resin-composite material. Integrated high-frequency acoustic waveguides are molded into the baffle to enable optimum horizontal and vertical dispersion and a smooth frequency balance both on- and off-axis.
The aspen FR30 loudspeaker will be available in spring 2022 in a choice of Pearl White or Sable Black finishes, at a US manufacturer's suggested retail price of $28,499 per pair.
For more information: https://www.psaudio.com/
---