SVS unveiled new wireless loudspeakers and integrated amplifier.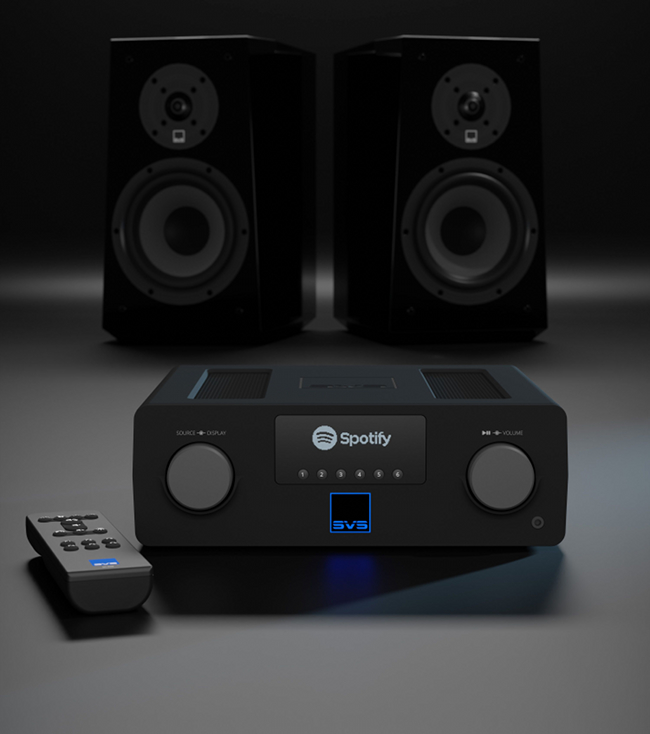 Source: Press Release, Last Accessed: 2022/11/04
The well -known manufacturer recently announced two new products in its wireless range. Active Prime Wireless Pro and Soundbase integrated amplifier belong to SVS's second generation of wireless smart speakers and wireless amplifiers and, according to the company, "they bring reference sound quality to the wireless category, combining high -resolution audio play Smart, flexible control."
The prime Wireless Pro speakers support WiFi, Airplay 2, Chromecast and Bluetooth and feature HDMI, line and optical inputs, an AUX 3.5mm TRS jack and Ethernet connectivity as well as an active subwoofer out.
The speakers operate as a master/slave pair (one active and a passive) and incorporate a total power of 200W (4x50W) through an active/digital filter for the 1-inch tweeter and the 5.25 -inch mid/woofer. The built-in DAC is a 24-bit/192KHz design and supports stream services, including Amazon Music, Qobuz, Iheart, Pandora, YouTube, Sirius XM, Tidal, and Audible. Control is via the DTS Play-Fi app, a standard remote, voice commands and, conventionally, through the controls of the active speaker.
The new Prime Wireless Pro Soundbase is a 2x150W integrated amplifier, with a 24-bit/192 kHz DAC, and supports wireless streaming via WiFi, Airplay 2, Bluetooth and Chromecast. It also has HDMI, line level and optical digital input, a 3.5mm TRS jack auxiliary input and Ethernet connectivity. Outputs include a sub-out to connect active subwoofers and a line-out.
Control is possible through a smartphone, tablet or computer by the DTS Play-Fi app or an infrared remote control. The display shows the artist's name, the name of the song as well as the output level, while the user has 6 presets for direct access to sources, favorite playlists and streaming services.
The Prime Wireless Pro speakers and the Soundbase integrated amplifier are already available for €999 (Prime Wireless Pro) and €799 (Soundbase).
For more information: https://www.svsound.com/
---