Vincent Audio updated their SV-237 to MK II Level, adding wireless streaming through Bluetooth 5.0.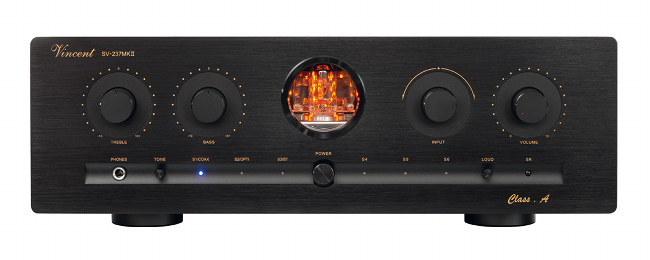 Source: Press Release, Last Accessed: 2022/07/06
Vincent Audio offers the SV-237MK II, a long-anticipated update of the company's popular SV-237 hybrid integrated amplifier a new version which offers Bluetooth connectivity and some serious cosmetic upgrades.
"The SV-237 is one of the most successful Vincent Audio models sold across the globe," says Steve Niemi, Director of Global Sales, Pangea Audio, LLC. "But, like all of the brand's products, the team is constantly looking for ways to make the best at a given price even better."
Available in both black and silver, the new SV-237MK II features the original model's hybrid design of both tube and solid-state sections and yields 2x150Wrms/8 Ohm and 2x250Wrms/4 Ohm, including a full 10 watts in pure "Class A" mode.
New to the SV-237MK II is the addition of Bluetooth 5.0, allowing listeners to wirelessly stream high-resolution audio files to the integrated amplifier. In addition to analog sources, the SV-237MK II features a DAC that handles the latest high-resolution streaming formats, including WAV, FLAC, APE, LPCM and more. Connectivity includes three analog and two digital inputs, with the latter connecting to a Burr-Brown PCM 5102 DAC.
For more information: https://www.vincent-tac.de/
---