Auris Audio introduced the Bayadere 3 turntable.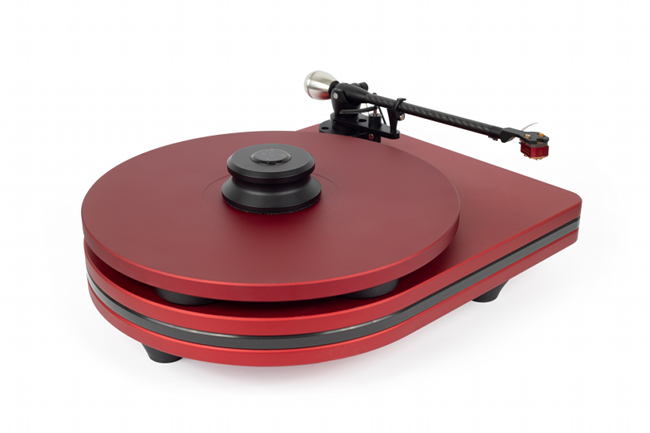 Source: Press Release, Last Accessed: 2023/05/04
Auris Audio unveiled their Bayadere 3 turntable, which is coming with the Auris W9 tone arm and Auris EON with the option of fine speed adjustment. Available colors are black, gray and red.
The name "Bayadere" (from the Portuguese word bailhadera) is a European term for Devadasi, female dancers from India clothed in bright costumes, usually made out of striped fabric. The Bayaderas were women chosen to be married to deities and become temple dancers, in fact, according to the Indian temple worship rules, dance and music are vital aspects of the daily worshiping rituals for temple deities.
According to the press release, Bayadere 3 is a well balanced turntable, it's main platter is mounted on leveling feet, very precisely shaped by Auris' designers for a true isolation from vibration. To further reduce the vibrations, the company integrated the main bearing in a case isolated from the base with a set of rubber rings. The main bearing is manufactured using the highest quality stainless steel with an incorporated bronze cylinder mounted with great precision in order to make the platter spin with the minimum resistance. There is a steady support of the main bearing consisting of a ceramic ball and a Widia tile with a hardness over 80 Rockwell, which makes the turntable work noiselessly and last longer with very little amounts of lubricant, the company says.
For Bayadere 3, Auris recommends their W9 tonearm – a 9-inch design made out of carbon fiber and milled aluminum. The W9 features six ball bearings. The arm wand is implanted in an aluminum joint, complete with an anti-skating system hovering on two ball bearings, with ultra low friction and a VTA adjustment of 10mm. The W9 is wired with the Van den Hull wires.
For more information: https://www.aurisaudio.rs/
---