LEAK adds a new, more powerful, integrated amplifier to its current range.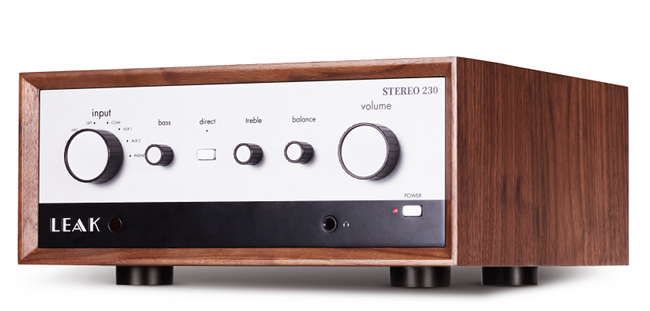 Source: Press Release, Last Accessed: 2023/02/08
One of the biggest names of the mid-twentieth century Hi-Fi scene, LEAK returned in 2020 with its first new products since the 1970s. Recently, they introduced the Stereo 230, a step-up model from the Stereo 130 integrated amplifier. The new amp features upgraded circuitry, delivers more power, and features an enhanced DAC stage for digital source components, the company says.
Digital inputs stretch to asynchronous USB Type B and two S/PDIF inputs (one coaxial and one optical), plus HDMI ARC. The latter option, which is an addition to the Stereo 130's specification, extends the Stereo 230's versatility for use with TVs to make an excellent stereo AV system.
On the analogue side, there are two line-level stereo RCA inputs, plus an MM phono input. Vinyl lovers benefit from the built-in phono stage's high-quality, low-noise, JFET-based circuit, digging lashings of detail from an LP's grooves.
The Stereo 230 upgrades the ES9018K2M DAC chip used in the Stereo 130's DAC stage to a newer, top-spec, chips from the eminent 32-bit Sabre family – the ES9038Q2M. The amp handles PCM up to 32-bit/768kHz and DSD to 22.58MHz (DSD512).
Powerwise, the amp features a Class AB stage arranged in a dual-parallel configuration, to deliver 75W per channel into 8 ohms, and 115W per channel into 4 ohms, based on a low-noise 270VA toroidal transformer, followed by 2x15.000uF reservoir capacity.
Other features include bass and treble tone controls – a feature passed down from the original Stereo 30 to the Stereo 130, and now the Stereo 230, as well as an analogue volume stage, controlled by a high-quality motorized ALPS potentiometer.
The LEAK Stereo 230 is available from January 2023, with or without the optional walnut wood enclosure.
For more information: https://www.leakaudio.com/
---