LS 3/5A: Musical Fidelity is re-entering the loudspeaker market with a classic monitor.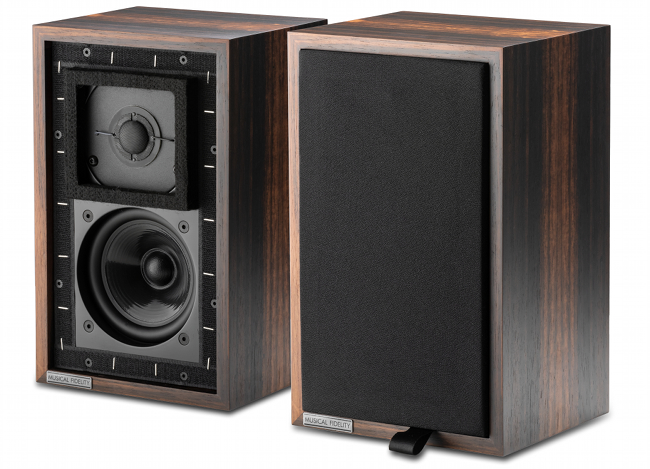 Source: Press Release, Last Accessed: 2023/05/31
Musical Fidelity recently announced their return to loudspeaker market and their first model has something to say, for sure. The British manufacturer will add their own version of a British Broadcasting legend, the LS 3/5A.
Initially, the LS 3/5A was ordered as a versatile monitor for listening in broadcasting vans in Britain. Slowly but steadily, audiophiles realized this speaker's qualities, especially in smaller rooms. Over the years, the LS 3/5A has been manufactured by renowned speaker brands according to the BBC R&D design, keeping an eye on the close tolerances that make the LS 3/5A what it is.
According to the press release, the sealed box design allows tight, quick bass response and natural midrange reproduction – significant for vocals and instruments. The appearance is utilitarian, but the speaker still dons a beautiful real wood veneer finish. The voicing of the speakers was done with the grilles in place, for optimum sound quality. The unique cabinet features 12mm side walls damped for the LS 3/5A signature sound.
Unlike modern speakers, that widely employ 19mm MDF, the LS 3/5A uses 12mm multiplex wood that is further damped on the inside: A design that has proven itself for over 45 years. The beautiful palisander wood veneer complements any living space.
The LS 3/5A offers a beautiful soundstage that goes way beyond the physical boundaries of the cabinets. The sealed cabinet, in combination with the damped, relatively thin sidewalls, is responsible for the dry, quick bass that goes deeper than you'd expect from a speaker this size, Musical Fidelity stated.
Extensive testing and long listening sessions went into the crossover network to make the custom drivers work together seamlessly. MF precisely matched the drivers and cabinets used in the Musical Fidelity LS 3/5A according to the BBC R&D design 1976/29. Frequency response is 80Hz-20KHz ±3dB and nominal impedance is 15 Ohm, while the notoriously low sensitivity of the original design remains, at 82.5dB SPL/W/m.
For more information: http://www.musicalfidelity.com/
---