PAS : Musical Fidelity takes the NU-VISTA series to the next level.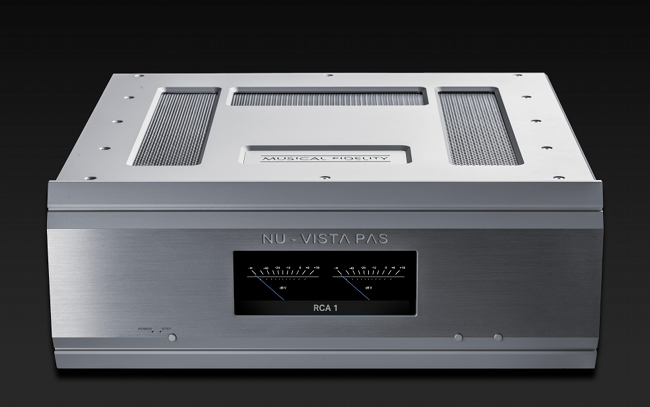 Source: Press Release, Last Accessed: 2023/01/18
Musical Fidelity decided to take their highly acclaimed NU-VISTA 800 circuit and expand on it, introducing the stereo power amp NU-VISTA PAS with a fully balanced, discrete, Class A Nuvistor stage and a separate power supply unit.
Nuvistor tubes were invented in the 1950s to solve the many shortcomings of conventional tubes, offering very high reliability, low microphony, low noise, consistency from batch to batch, small size, relatively low power consumption and great technical performance. One famous application was in the Ampex MR-70, a costly studio tape recorder whose entire electronics section was based on nuvistors. Another limited application of this very small tube was in studio-grade microphones from that era, the AKG/Norelco C12a, which employed the 7586, being a good example. It was also later found in the famed Neumann U 47 studio microphone. This microphone was highly regarded by artists all over the world. In the PAS, for the first time, Nuvistor tubes come together with state of- the-art fully balanced discrete topology. The result is a power amp that "measures and sounds like a dream", the company says.
The new amp features 8x 6S 51N Nuvistors in a low noise balanced buffer input and a high output power stage yielding more than 300W into 8 ohms, 500W into 4 ohms and 1000W peaks into 2 ohms. The balanced, low distortion circuit, based on the legendary Titan 1000W amp employs five pairs of high-power output devices for stable and reliable operation, MF states. The separate capacitors for bulk supply and output devices reduce output impedance and improve dynamics. Added chokes improve the supply ripple and pulse current spike reduction. The matching external PSU supplies the clean power and proper shielding and dampening. Connectivity includes four fully independent inputs (2x RCA and 2x XLR).
The enclosure is "uncompromisingly rigid and solid" and the massive casework shields the delicate signals from any harmful electromagnetic fields that may interfere. A color display with optional VU-meters and selected input indication completes the aesthetics.
For more information: http://www.musicalfidelity.com/
---