NAD announced Masters M66 BluOS Streaming DAC-Preamplifier.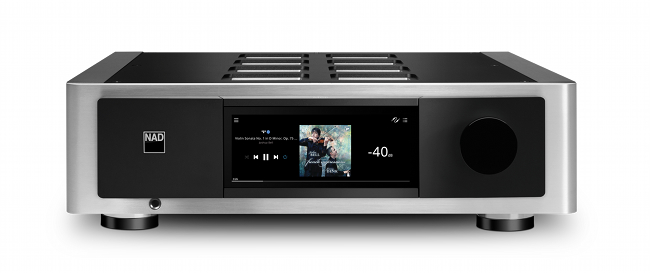 Source: Press Release, Last Accessed: 2023/05/11
This flagship component offers leading-edge capabilities like BluOS high-resolution music streaming, Dirac Live Room Correction, Dirac Live Bass Control and four independent subwoofer outputs, a first for a two-channel preamp. The M66 is a no-compromise component so advanced, it represents an entirely new category of Hi-Fi separates, the company says. In addition to an audiophile-grade DAC and a network streamer based on the BluOS multi-room music platform, the M66 has a wide range of inputs, including MM/MC phono and HDMI eARC. The M66 also features both Dirac Live Room Correction and Dirac Live Bass Control, enabling it to deliver more accurate in-room response than any two-channel component ever offered.
With the M66, users can play music just in one room, or share music over a home network with up to 63 other BluOS-enabled components from NAD and other hardware partners. The M66 can also be integrated into control systems.
Featuring Dirac Live Room Correction, the M66 enables users to address the listening room itself by analyzing measurements, then upload filters to compensate for common acoustic problems like standing waves and unwanted reflections.
The M66 has four balanced (XLR) and four unbalanced (RCA) subwoofer outputs and integrates the full version of Dirac Live Bass Control, which optimizes bass output in both the frequency and time domains.
The digital section of the M66 employs ESS' flagship ES9038PRO Sabre DAC, an ultra-precise resistor-ladder attenuator and is the first component to feature NAD's innovative Dynamic Digital Headroom (DDH) circuitry which eliminates digital inter-sample peak clipping distortion. The M66 has separate signal paths for digital and analogue sources, and separate power supplies for the digital and analogue sections, so that analogue signals are unaffected by digital interference when the Analogue Direct mode is engaged.
Connectivity includes a MM/MC phono stage, HDMI eARC interface, two coaxial and two optical S/PDIF inputs, an AES/EBU balanced digital input, two sets of RCA analogue inputs, and one pair of XLR balanced inputs. The M66 has balanced XLR and unbalanced RCA outputs, a dedicated headphone amplifier and, also, has Bluetooth connectivity(AAC, LDAC, and aptX HD).
Global retail availability will begin this fall.
For more information: https://nadelectronics.com/
---