Pro-Ject's Stereo Box S3 BT: The Stereo Box S3 – plus a wireless input.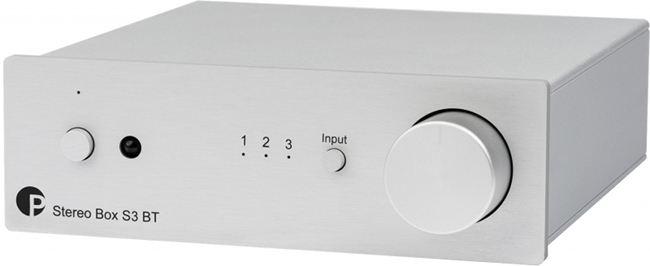 Source: Press Release, Last Accessed: 2023/11/30
Pro-Ject's compact, personal stereo integrated amplifier now includes Bluetooth connectivity. The company have managed to squeeze even more power output into the compact chassis, while a Bluetooth input allows to choose the music from the comfort of your favorite listening chair.
The amp features three inputs and wireless connectivity, since the user can hard-wire up to two devices to the rear RCA jacks and send his favorite tunes from a phone or tablet with a third aptX HD- capable Bluetooth input.
Despite its small, neat, case, this integrated amp can power your favorite pair of bookshelf speakers (2x40W/4 Ohm) and use the supplied remote to adjust volume and select the input from your listening position. Need more bass? The 3.5mm variable jack output at the rear can be used for a powered subwoofer to cover the lowest notes – or to hook up an Amp Box S3 and pipe music into a separate room or even outdoor speakers.
The new amp features an analogue volume control with motor driven potentiometer, gold plated RCA connectors and a black or silver, rigid, aluminum casing that protects against interference.
The Stereo Box S3 BT is made in Europe and is available for MSRP €399,- (incl. VAT).
For more information: https://www.project-audio.com/
---