Wharfedale's Heritage Series peaked with Dovedale.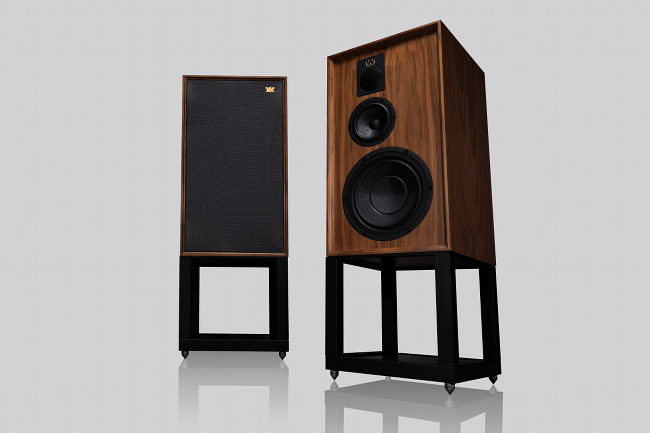 Source: Press Release, Last Accessed: 2023/02/28
One of Britain's most famous speaker brand exploits its rich history to re-engineer another 20th-century classic, the redoubtable Dovedale – proudly designed, engineered and made in the UK.
Wharfedale's great history as a maker of loudspeakers stretches back to 1932 – a quarter of a century before the introduction of stereo sound to consumers. In the 91 years since, the company has delivered many innovations that have since became commonplace, such as marrying separate bass and treble units to make the first two-way speaker system. Today, Wharfedale celebrates its past with the Heritage Series – a range of classic stereo speakers from the 1960s and 1970s, re-engineered for the modern age. Now, the company offers the Dovedale, the biggest and best Heritage Series speaker yet.
Named after a valley in England's Peak District, the first Dovedale speaker launched in 1965 as an updated version of Wharfedale's W2 model. It was originally a two-way design but was later adapted to a three-way with separate bass, midrange and treble drivers. There were several versions of the Dovedale during the 1960s and '70s, but perhaps the most fondly remembered is the Dovedale 3, which arrived in 1971 – a speaker renowned for its rich, open and effortless sound quality.
The re-engineered Dovedale takes inspiration from the Dovedale 3 and corresponding Unit 5 build-at-home kit. The new speaker's cabinet is a touch taller, a little wider and considerably deeper than the standard production Dovedale 3, but similar in size to the largest home constructors' version, and its proportions will be recognizable to anyone familiar with its forebear.
The 10-inch bass and 5-inch midrange drivers incorporate cones made from woven Kevlar, the midrange unit is housed in its own internal enclosure, ensuring its performance is unsullied by vibrations from the bass driver, and the 25mm fabric-dome treble unit with a ceramic magnet, featured throughout Wharfedale's Heritage Series, has been further improved by incorporating a rear chamber, damped to absorb the output from the back of the dome.
The midrange and bass cabinet enclosures are both critically damped using a carefully calculated combination of acoustic foam and long hair fiber. The crossover components have been chosen for their revealing and transparent character and have been laid out on twin PCBs with careful spacing to avoid electromagnetic interference.
The impedance characteristic is kind to amplifiers, being a smooth and relatively non-reactive 6 Ohm load, with a minimum of 3.6 Ohms. Together with a high sensitivity of 89dB for 1 Watt input, an excellent sonic performance at room-filling volume levels is assured with a wide range of amplifiers.
All Wharfedale's Heritage Series cabinets use a combination of woods to scatter panel resonances rather than having a single, audibly obvious resonant frequency. The same is true of the Dovedale but, here, an inner layer of high-density particle board is bonded to an outer layer of MDF by an inter-layer of high-damping glue; specially chosen figured-grain, real-wood veneers are applied to all surfaces, hand-polished and lacquered to a satin finish.
Wharfedale has designed a pair of floor stands to match the new Dovedale, with an open frame made of carbon steel and furniture-grade glass inserts at the top and bottom.
For more information: https://www.wharfedale.co.uk/
---