MEDIA PLAYER
Questyle QP1R.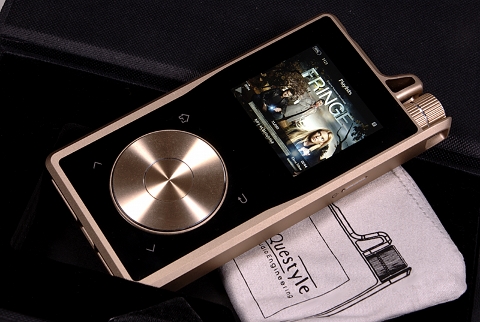 Questyle QP1R.
Specifications (according to published data)
Description:
Media player.
File compatibility:
WAV, FLAC, ALAC, APE, AIFF, ADPCM, LPCM, MP3, WMA, WMA Lossless, OGG, AAC, DFF, DSF.
Sample rates:
24bit/192kHz (PCM), 5.6MHz (DSD128, DSD).
Outputs:
Headphone 1x (TRS mini jack, 3.5mm), Line out/Digital 1x (TRS/Toslink 3.5mm).
Power:
40mW/32 Ohm, 12mW/300 Ohm (high gain), 8.8mW/32 Ohm, 16.3mW/16 Ohm (low gain).
Frequency response:
20Hz-20kHz (± 0.1dB).
Memory:
32GB (internal), 2x128GB (micro SD, extension).
Battery:
3300mAh, playback time: 8-10 hours.
Dimensions:
134x65x15 (mm, LxWxH).
Questyle QP1R.
Price & General Information
Price (€)
990,- (*)
Sample source
Aurion Image&Sound, tel .: 0030-210-808.8902
Sample source URL
http://www.aurion.gr/
More Information
http://www.questyleaudio.com/
(*) Please note that this price is for the local market where our review sample source provide their services. For a price specific to your location, consult your local dealer.
Previous | Back to Intro | More Reviews
---