D/A Converter - USB/Bluetooth Streamer
S.M.S.L DO200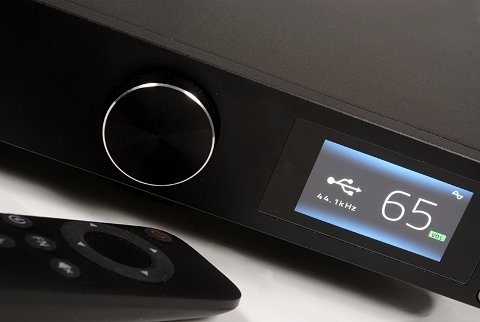 No doubt, and given the price asked (below $500,- internationally and just over €500,- on the EU market), DO200 is a thoughtfully designed and well-made device. A rigid, compact chassis is combined with a heavy front panel, a color screen, and a well-designed user interface based on a jog-dial. Through this, the user can select the digital input to stream and the output level, and navigate the device's menu which is unusually rich in options. In this regard, SMSL has done what most manufacturers - for not particularly understandable reasons - refuse systematically to do: DO200 gives the user most of the features the D/A chip is offering so that he can adapt its operation to his needs and/or preferences. This is quite an attractive option, as SMSL is a regular user of ESS chips, which are known to be feature-rich. Thus, through the menu, the user can select the digital filter (between three available, Fast Linear, Minimum Phase and Slow Minimum), voicing (or Sound Color, between ten DSP-based options, not some frequency domain graphic or parametric equalization the company says), the sensitivity of the PLL (which is based on ESS's DPLL technology), output phase, a fixed/variable attenuator mode and control the I2S bus operation (which is routed through an HDMI port). This last feature allows the DO200 to adapt to a variety of digital sources that offer this type of connection. Perhaps the most unusual option is that of the S/PDIF interface mode between a Normal version, where the standard interface solution is used, and a Processor version, where part of the XMOS processor is used. According to SMSL, this affects some MQA-related functions and the handling of DoP signals.
DO200 offers a full connectivity package including a set of standard digital inputs, coaxial (RCA), optical (Toslink) and AES / EBU (XLR), a USB port for streaming using a computer as a host, HDMI port to connect a digital source via I2S bus as well as ad-hoc wireless streaming via Bluetooth v5.0, supporting SBC, AAC, aptX, aptX HD and LDAC codecs. Analog output is provided in both single-ended (RCA) and balanced (XLR) formats, with the - rather unusual- option to separately select phase designation for each output line, i.e to use an inverted single-ended and a non-inverted balanced output or vice versa.
Basic function selection and menu browsing can be made from a good quality remote control, which, in addition, also includes a programmable key so that the user can carry out specific functions without having to enter the menu. The screen has adjustable brightness, it appears to be of good quality and quite readable from a distance, in terms of basic indications (level, selected input), but the menu has small characters and you need to look closely to navigate especially during your first days with the device. After a short time you will automate some of your choices, like the digital filters, or the sound color, though.
In its internal structure, DO200 follows a particularly neat approach, without any wiring related to the audio signal and without a power transformer. The power supply features a custom SMSL module, most probably of the switch-mode kind, which is supplemented by two 1000μF capacitors for the main filter and local regulator circuits.
The digital front-end includes an XMOS processor to manage the USB port and other digital signals (depending on the menu selection), an Altera Max II family CPLD, and a Qualcomm QCC5125 SoC to support Bluetooth functions.
D/A conversion is done by an ES9068A chip per channel, an IC designed specifically for low-power devices which, however, offers top-quality performance and incorporates all the ESS' known technologies, including HyperStream, Sabre, DPLL, Jitter Eliminator. The whole system supports sample rates up to 32-bit/768kHz (PCM) and DSD1024 (DSD) via USB and I2S ports, up to 24-bit/192kHz via the standard digital inputs, for PCM streams and up to DSD64 via DoP, for DSD and can fully decode in MQA-encoded streams through the standard digital inputs and the USB port.
The analog part of the converter is based on Texas Instruments OPA1612A double operational amplifiers, a chip featured in all the stages of the circuit, including the balun stage required for the single-ended output. Passive components are of high quality with WIMA's classic red THT caps to stand out on a board mainly populated by SMDs. A quite interesting choice, here, is the use of an additional variable gain amplifier stage, also with an OPA1612, through which the channels can be balanced in terms of their level, via multi-turn trimmers (we assume, during the quality control phase). This is not a typical solution and, as it appears, it has some positive impact on the DAC's performance.
Previous | Next | More Reviews