FLOORSTANDING LOUDSPEAKER
Magico S1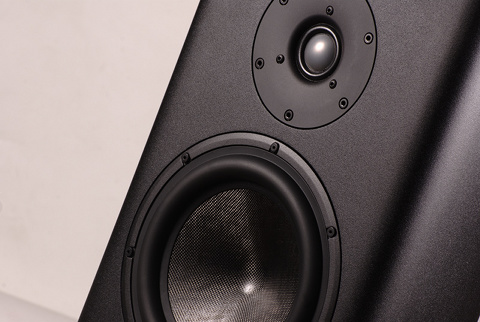 The S1 is a quite compact floor standing loudspeaker about 250mm wide, a little less than 1.2 meters high and with depth not exceeding 230mm. With the standard black-embossed finish passes rather unnoticed, being a low profile object that is easy to blend with the rest of the room contents. This is just a skin-deep impression of course, since under a more detailed look, S1 features several interesting aspects. For starters, what we are dealing with is a closed-box design, a quite rare choice for a floor standing loudspeaker. To the extent that one can interpret Magico's way of thinking here, this is a distinct effort to create a loudspeaker focused rather on accuracy merits that on audiophile-centered sensationalism. Additionally, S1 is clearly not "just another closed box", as the enclosure itself is made of a solid aluminum extrusion profile, in other words a seamless constant cross-section tube with a wall thickness of about 9.5 mm (3/8 of an inch). The only area a material discontinuity appears are where the cabinet is sealed, at the top and bottom of the above-mentioned tube. This structure enabled Magico to create an enclosure with the minimum of edges (apart from the baffle, the rest of the surface is curved) which reduces diffraction effects and offers a satisfactory appearance. A series of metal cross bracing beams, clearly visible in a photo provided by the company, further reinforces rigidity and breaks the symmetry of the internal volume, thus reducing the likelihood of standing waves to evolve.
The loudspeaker is a two-way/two driver design, a clear reference to one of Magico's most prominent products, the Mini, appeared in 2004. Mini was their first commercial product, a two-way closed box monitor.
The tweeter is an 1-inch beryllium dome (MB30) unit, identical to that used in the top S-series model, the S5. Low and mid-frequency signals are assigned to a 7-inch driver (MV390), based on a Nano-Tec cone. Nano-Tec is a combination of carbon nanotubes (which have excellent strength characteristics) and Rohacell, a foam material used in the aircraft industry. It is an obvious attempt to achieve a low mass/high rigidity combination that offers low sound coloration as well. The cone created from this material does not contain a dust cap and ends in a titanium voice coil former. This titanium former (which ensures rigidity and good heat dissipation) and the driver's long throw surround suspension, is- probably- what allows Magico to announce a 32Hz low cut-off frequency for S1.
Magico does not offer great details about the crossover network used in S1, essentially leaving us in the dark about the choices made. What is visible here, are two high quality terminals for connection to the amplifier, allowing for good grip during cable tightening without the use of special tools. Banana plugs, spades or just bare cable are all supported.

The 43 kg cabinet can be either of the standard finish (the same as in the photos you see in these pages called the M-Cast) or of a variety of colors, which the company calls the M-Coat. Nevertheless, the second option raises the price considerably. Leveling of the loudspeaker is possible through the help of four, easy to adjust, support pods that end in spikes. The process is quite easy, feasible from the top side and without the need of any tool. Using four support points instead of three, may require a little more time during the initial installation but it is clear that this approach offers greater stability. Quality of construction seems to be very high and the only thing missing here is a grille to protect the drivers, which, due to their location, high in the cabinet, are quite exposed.
According to published specs, S1 has a sensitivity of 86dB, and is a 4-ohm load. Frequency response is between 32Hz-50kHz, while the minimum recommended amplifier power is 50W/channel.