FLOORSTANDING LOUDSPEAKER
Rois Acoustics Kalypso Passive.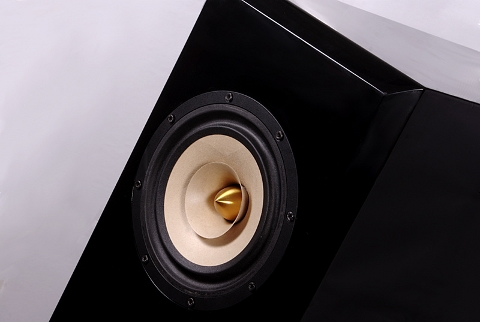 Kalypso is a large floorstanding loudspeaker which is available in three different finishes. The black lacquer finish version which is shown in the photos accompanying the review impresses immediately -even the unsuspecting observer and, despite its volume and over one-meter height, it appears to not optically overload the listening room.
Rois was, as already mentioned, approached the design in a minimalist way by using an 8-inch full-range driver, one of the top models from Tang Band, a well-respected manufacturer. The driver features a treated paper cone combined with a textile-based long throw (±3mm) suspension. The suspension combined with a neodymium magnetic system and an underhung voice coil (in which the entire length of the coil is always in the magnetic gap) ensures, as Rois puts it, lower distortion, and higher speed than similar drivers with a suspension allowing a shorter cone displacement. The construction of the driver is complemented by its characteristic phase plug which is made of aluminum.
The use of a single driver, in addition to providing a loudspeaker with point source properties, relieve the designer from the need to design a crossover filter and the loudspeaker itself from the effects that this network introduces and are often considered negative. The only network Kalypso uses, is one that controls its high-frequency response in terms of sensitivity. This is designed in a way to compensate for the room acoustics and to suit the preferences of the listener. Rois does not give many details on the circuit but says it's "acoustically transparent" and top quality components are used, including Mundorf capacitors. The user accesses the filter through the back of the loudspeaker where he has the option to choose between two "hot" terminals when connecting to the amplifier. One of them offers a 2dB attenuation in the high-frequency region. By the way, the loudspeaker binding posts are of very good quality and all the standard cable termination methods are supported.
The 8-inch driver is loaded through a 2.7 meters-long folded horn. This type of loading is, of course, well known to most audiophiles. Its basic principle is to act as a mechanical transformer that ensures better energy transfer between two systems with very different characteristics such as a loudspeaker driver and the air. Although most audiophiles will gladly tolerate a fully unfolded horn in their listening room and -indeed- some of the most impressive loudspeakers are using precisely this approach, the need for some control in both the size and the materials used, is much better served by using a folded horn, a structure which is created inside a conventional cabinet, just as in this case.
The result of all the above is a loudspeaker with high sensitivity (at 95dB/w/m as stated in the specifications) with a nominal impedance of 8 ohms. Both these figures make Kalypso particularly suitable when low power, tube based amplifiers are available.
Previous | Next | More Reviews